Christmas decorations are a big part of the holiday season, and what's Christmas without cheerful touches and decorative elements filling almost every corner?! Decorating for Christmas is part of almost every family's to-do list in December, but decorating the interior of your home is much more complex than simply putting up a Christmas tree. In the average home, there are limited places where decorations can be placed without causing disruption to everyday life and reducing space. That's why it's important to take a good look at your home and anticipate the available room and elements in order to make the best possible arrangement.
If you love minimalism, or you're on the other extreme - someone who overdoes Christmas decorations, you'll probably want to give your home and routine a breath of fresh air. To this end, incorporate floral arrangements and natural greenery into your decorating scheme. Aesthetics aside, using unique materials like flowers can get your creative juices flowing as you play around with designs and DIY projects.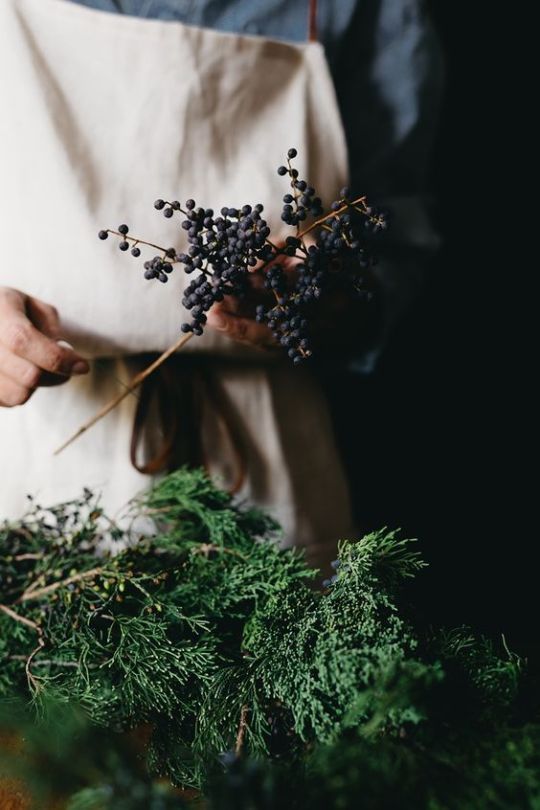 When you think of Christmas decorations, you probably think of fairy lights, candles, pine boughs, mistletoe, and of course, a tree decorated with angels and delicate glass toys. If you want to try something a little different this winter holiday season, use the arrangement with fresh flowers! Floral arrangements with sparkling silver or glittering gold, forest elements, dried fruits, and other whimsical winter touches will make your place extremely cozy and with a wonderful aroma.
As for the types of flowers, there are many beautiful winter plants that can go into an arrangement or bouquet of fresh flowers. Red is particularly popular at this time of year, so consider roses, carnations or alstroemeria. If you like a more neutral and minimalist range, the white flowers of lilies, chrysanthemums, Lisianthus, and white roses can also bring a touch of winter magic to the decor scheme. Plus, white flowers look great when mixed with silver cones and seasonal greens!
Bouquets are also great gifts for parties and celebrations during Christmas and New Year. If you are invited to a Christmas or New Year's party, what better gift to give the host than a fresh bouquet of flowers?!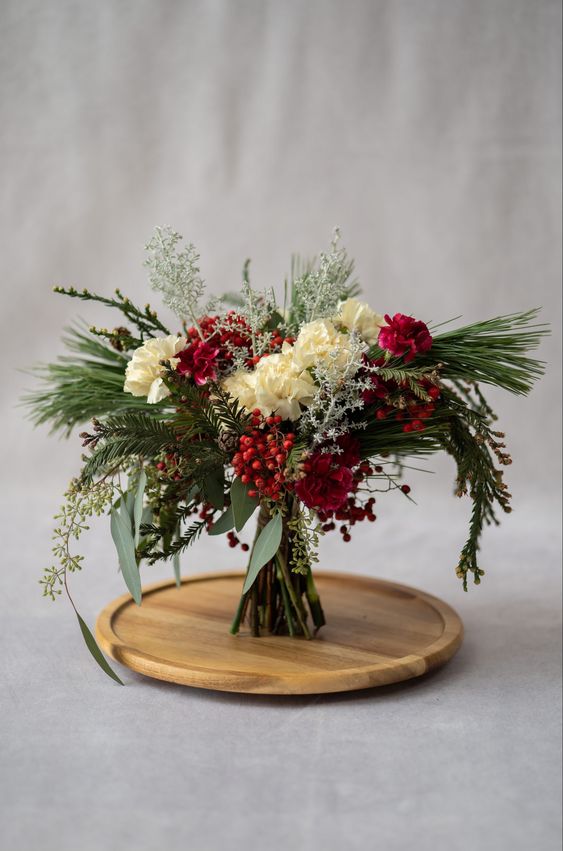 Remember that a bouquet of Christmas flowers can be placed in various places around your living room or dining room to create a captivating focal point for guests to admire. Side tables, windowsills, and low coffee tables will all benefit from a colorful and attractive winter arrangement of flowers. You can even place a Christmas bouquet of flowers in the center of a festive table, although you may need to move it at some point to make room for all the food! :D For dining tables, a good centerpiece can really make all the difference in creating the Christmas spirit. Consider whether you want a smaller arrangement that can be moved around easily when the table is in use or a large arrangement for maximum visual impact.
While you carefully decorate the Christmas tree, don't forget to save extra decorative balls and use them in other parts of the home. You can make a sparkling focal point with these decorative ornaments and highlight your wonderful Christmas dinner.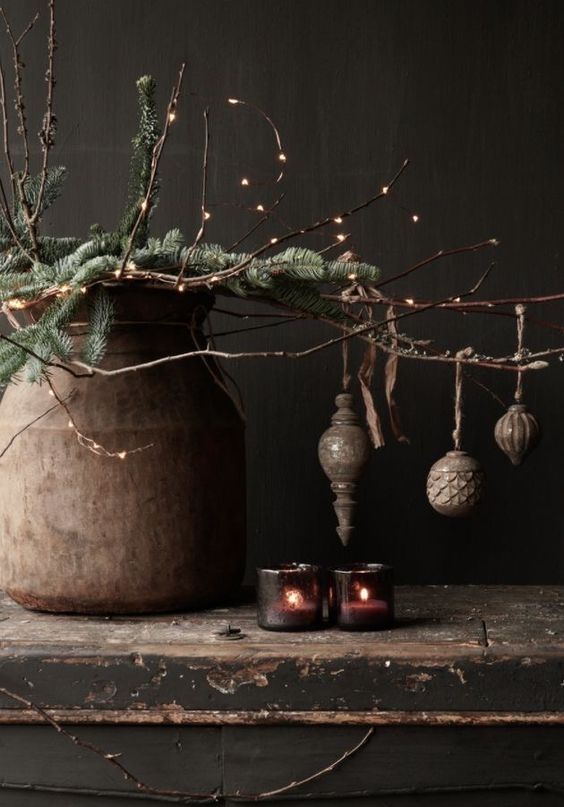 Decorating with twinkling lights always adds mood and coziness. However, be careful with the placement of Christmas lights, as the lights in a closed room appear much brighter due to the nearby clutter in the home. Be judicious about using large bulbs or LED lights. Common places for lights are to sit on the mantelpiece with the other decorations, slide along the banister, or even frame the door or windows.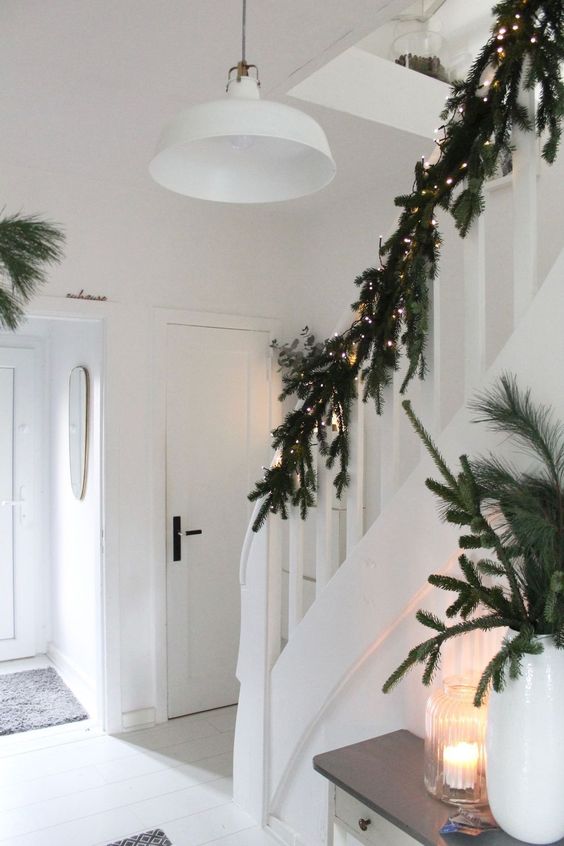 Christmas Wreath Symbolism
Although wreaths are on the popular list of Christmas decorations, it's always nice to be greeted by a wreath of beauty right out the door! The wreath adds beauty and color to the season, but the meaning of the Christmas wreath adds more than just splendor. Wreaths are part of many ancient traditions dating back to the earliest civilizations, and also have an inherent Christian spiritual meaning of eternal life. The circle is a symbol of immortality and throughout history has been associated with life, rejuvenation, and renewal. Originally, garlands were worn around the head, neck, or waist as a status symbol. Wreaths of laurel, pine, herbs, and flowers were woven, and each addition to the wreath had a specific meaning for ritual symbolism
The ancient Romans wore crowns of laurel wreaths to denote authority and were often worn by politicians and government officials, and soldiers were given honorary wreaths when they returned from battle.
In ancient Greece, the expensive prize for an orator and poet was a wreath, and Olympic winners were also awarded wreaths.
The ancient Egyptians sewed flowers onto strips of cloth forming headdresses, which were often used to decorate statues of gods.
In early Germanic cultures, table decoration is found with a wreath, and later a candle was added to the traditional evergreen circle of the winter solstice. The wreath was a wintry reminder that spring would return and the Earth would warm again.
For Christians, the wreath was originally a symbol of Jesus' suffering. It represents the crown of thorns worn on the cross, with the red berries symbolizing the blood of Christ, and the use of evergreen branches in a wreath signifies eternal life. By hanging a wreath on the front door, Christians believed they were inviting the spirit of Christ into their home.
Tips for decorating a Christmas wreath
Each wreath begins with a base. It can be wire, straw, sprigs of tree branches, or herbs such as rosemary and lemon verbena, which can be wrapped in a circle to make an aromatic base. Gather small bunches of evergreens together and wire them to the base. Overlap them to hide the stems. Tuck small sprigs of herbs and other interesting greens into the base. Using greenery of different colors and textures will give your wreath its richness! Add pine cones, dried flowers, and fruit for accents.
If you are looking for unique materials to use, flowers are definitely a great choice for decorating Christmas wreaths! You'll never run out of options – you can use roses, poinsettias, carnations, and countless other seasonal and occasion-appropriate flowers for your evergreen garlands. You can arrange the flowers in a focal point or scatter them around the wreath, and for an extra cheerful touch, you can include glitter, ribbons, and dry decorations.
The front door can be a great place to warmly welcome guests. If you want to spread the spirit of the season around the house, you can do so by fixing the fresh wreaths on the walls and windows. 😉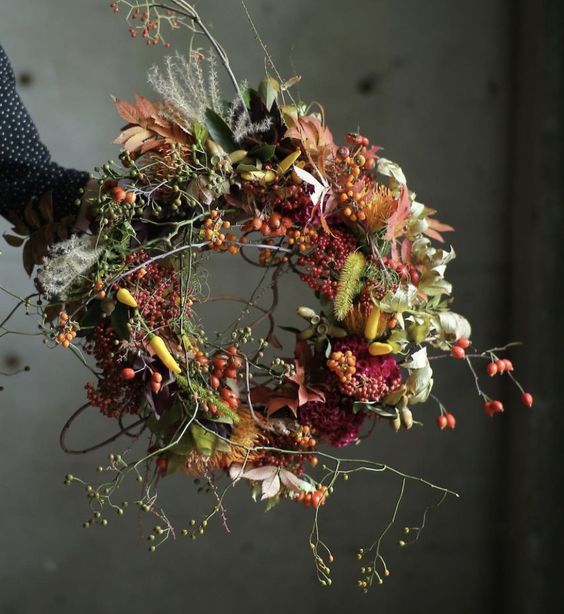 If you still don't have the time and materials to make your own wreath or a beautiful natural Christmas decoration, don't forget that you can always trust our Top-Flowers team of florists who will prepare a wreath, arrangement, or Christmas decoration, especially for the upcoming holidays, so that the magic and coziness in the home is irresistible!
Each new year brings with it many exciting floral trends for anyone who appreciates botanical beauty. From specific varieties to color palettes, there are many energizing options to breathe new life into your home or workplace. Whether you are planning a wedding in the new year, or want some creative gift ideas that you can share with the people you love, in this topic you will find fun and interesting trends that are sure to ignite your imagination. See the best floral trends for 2022
Color Trends
Unlike 2021, when soft and neutral colors were revered, 2022 reveals that the floral world is full of saturated and vibrant colors. Of course, there is still room for a palette of lighter and pastel tones, as they play an important role in ensuring a balance between brighter and more saturated shades - but the stars of the show in 2022 are definitely more vivid colors. Warm colors with a surge of energy - think of tropical tones that evoke dreams of sunny afternoons and waves crashing on the shore. Bright orange with a hint of yellow, deep blue, and lush pink are bold additions to the color palette of the year. For contrast in the spectrum are the cooler shades that capture the feeling of calm. Sky blue colors are ideal for this purpose. Equally eye-catching is the deep earthy green, inspired by vegetation. These shades radiate a certain natural optimism, providing a wonderful balance for more vivid colors. However, leave a little space for neutral colors that are earthy and combine beautifully with both warm and cold tones. Popular shades in 2022 include soft colors such as ivory, which are an alternative to snow-white flowers. Olive shades are also welcome as additions to any palette, offering some of their characteristic comfort and gentle appeal to any arrangement.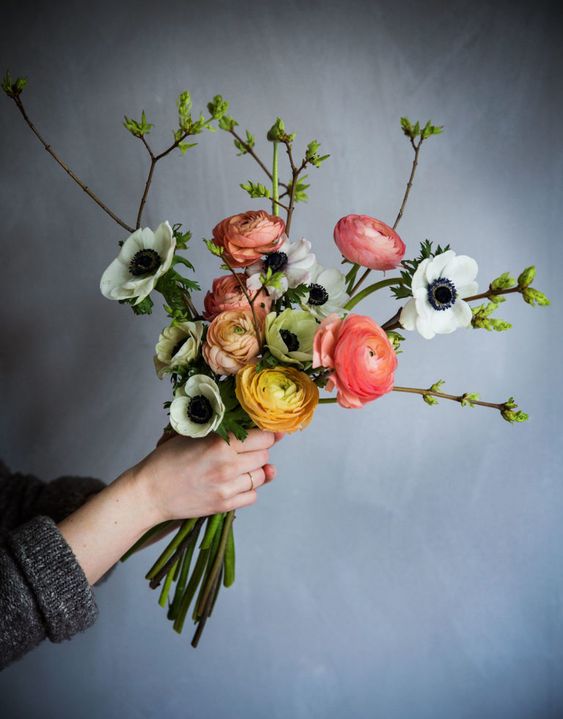 Style trends
Having a sense of flexibility dominates the floral trends of 2022. This type of bouquets and arrangements radiate style and you will see it everywhere - from the brilliance of traditional wedding arrangements to the abundance of bouquets of wildflowers. Peonies, which are characterized by lush splendor, are our favorites in this regard. This fluffy flower instantly illuminates any space with its eternal beauty. Tropical stems will also be at the forefront in 2022, both because of their resonance with romantic sunsets and because of their inspiring mood. Queen Protea - this South African bloom steals the show in every arrangement in which it finds a place.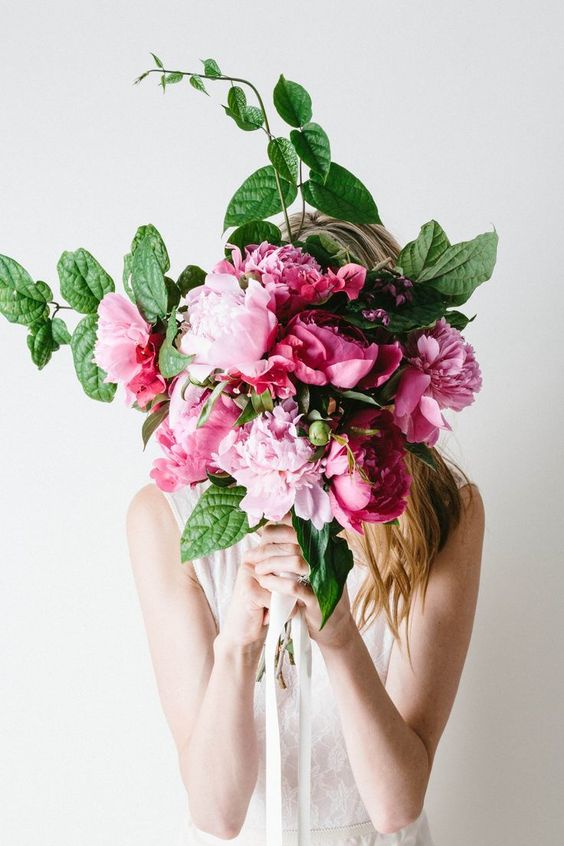 Layering flowers is another fun trend that makes the 2022 arrangements much more unique and expressive. The beauty of layering is that it allows a variety of textures and colors to be included in one combination. Have fun mixing and combining stems that you like to create a unique look that attracts attention. Think of roses, carnations, and peonies to give lush nature to your bouquet. Given the return to brighter colors in 2022, brides may appreciate wearing deeply saturated arrangements instead of more traditional pastel and soft tones. Its rich range of flowers, roses, carnations, and chrysanthemums are sure to catch your eye as you walk down the aisle to the altar.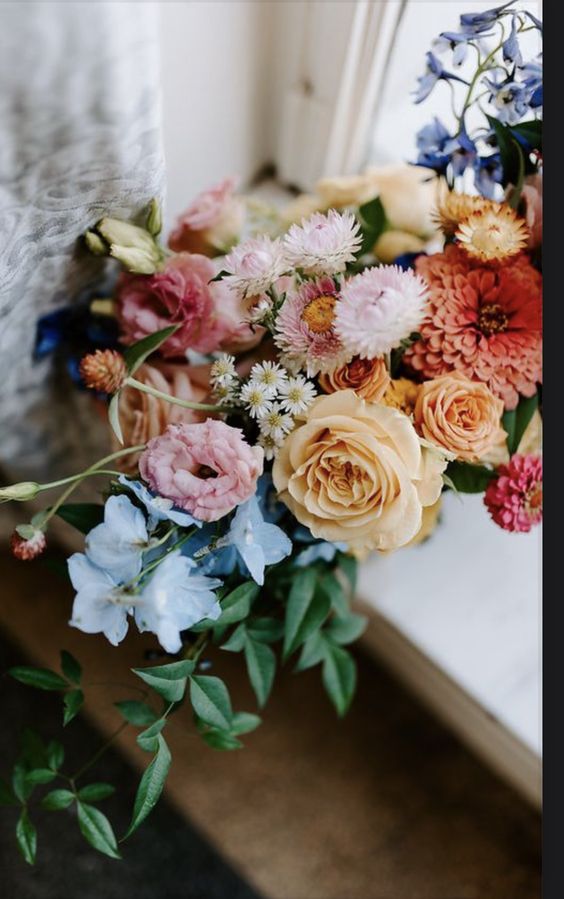 In the end, it all comes down to mood and tone. All colors and textures play an important role in conveying a sense of optimism in 2022.
The thought of dried flowers takes us back to childhood memories and the house we grew up in. Where dried flowers and herbs hang from the ceiling, on the walls and doors, or delight the corner of the old country house. Decorating with dried flowers is a wonderful way to bring the beauty of nature into your home all year round. Not only it is an opportunity to extend the life of fresh flowers but also arranged natural bouquets look great hanging upside down during the drying process.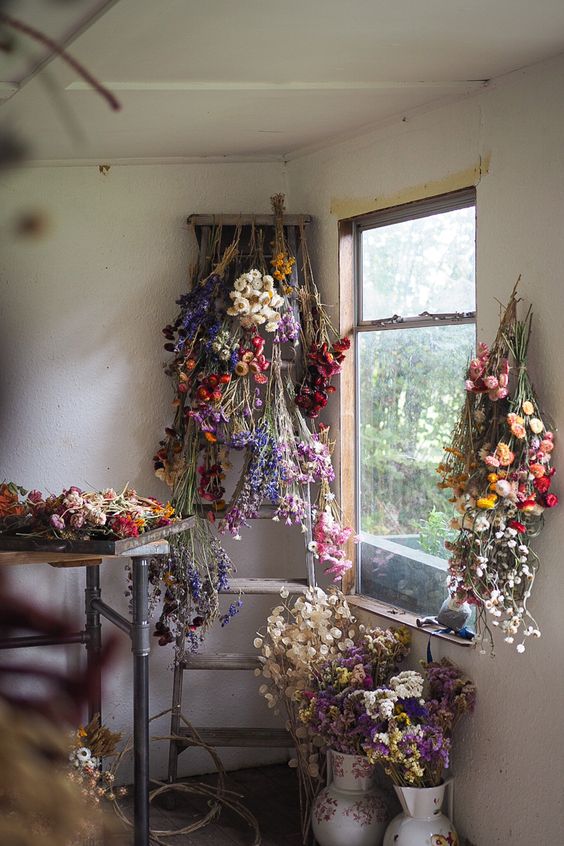 Popular since Victorian times, decorating with dried flowers has made a comeback in recent years. This way of connecting with nature is a great alternative to fresh floral bouquets and arrangements, which unfortunately have a limited life. Dried flowers, unlike cut flowers, are timeless and bring an accent to the interior month after month without having to be constantly refreshed, making them much more durable for long-lasting seasonal decoration.
Tips and Ideas for decorating with dried flowers
There are countless ways to arrange dried flowers in your home. To help and inspire you, we've collected some of our favorite trending creative ideas and tips on how to arrange dried flowers in your home.
Use old glass jars and bottles
Jam jars, old clay pots, decanters, and all glassware make modest but lovely stands for hand-picked flowers. Decorate them with seasonal greens such as gypsophila, phalaris, rabbit tails, daisies, and any blooming flowers. Tie the bouquet with hemp rope and trim the ends so that the bouquet fits perfectly in the jar.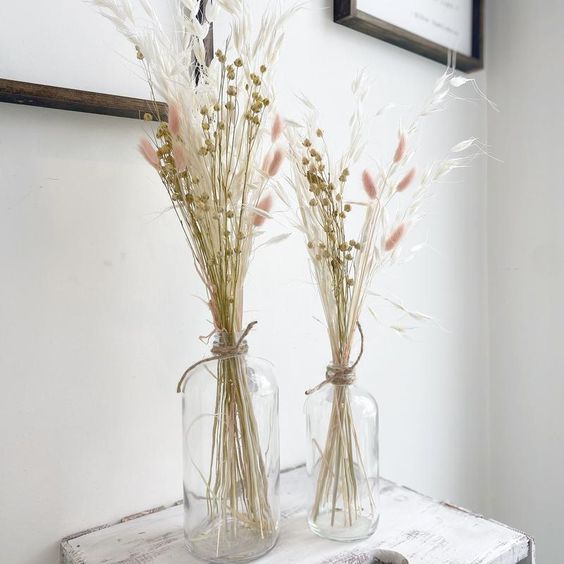 Create lush anf long arrangement on the table
Dried flower garlands are great fall table decoration that can be used over and over again. Use mimosa, flax, chamomile, helichrysum, daisies, wheat, delphinium, statice, rabbit tails, eucalyptus, gypsophila, and any forest branches and tree bark. Cut all the flowers into 10cm lengths and fix them together in groups of the same type. Take part of the garland and wind the long greens. Start at one end and gradually build up with the clustered flowers, blending them for the fullness.
Make a dry wreath
A dry wreath is perfect for accent on a plain wall and it's always lovely hung on a front door for holidays like Easter and Christmas. To make the base of the wreath start with vine branches. Then arrange the flowers in separate groups - mimosa, eucalyptus, wheat sheaves, rabbit tails, delphinium, gypsophila, hypericum. Begin placing the first group of flowers along the front of the wreath at the base, with the stems facing down. Secure in place with floral wire. Repeat with the next group of flowers, making sure the flowers cover the wire. Continue until you reach the center, then repeat in the other direction. Finish and cover the last stems with helichrysum flower heads or whatever blooming color you like.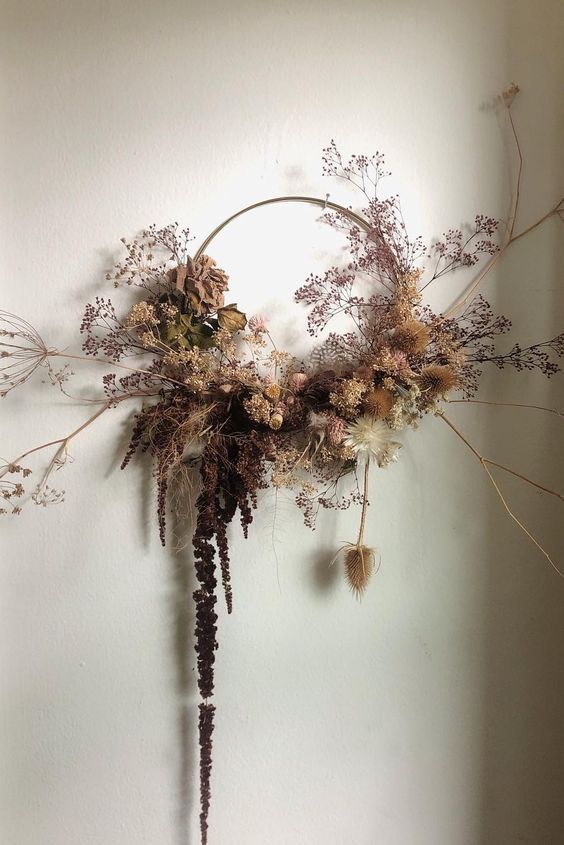 Decorate the mirrors
Cresting a mirror with dried flowers is a wonderful way to bring a beautiful, feminine, and natural touch to a dressing table in a bedroom or entrance hall. In this way, you can create a vivid, textural, and wild feeling of nature in your home. Include birch or willow twigs, ferns, straw flowers, and any blooming wildflowers. Also, use ornamental grasses such as rabbit tails and Japanese reeds.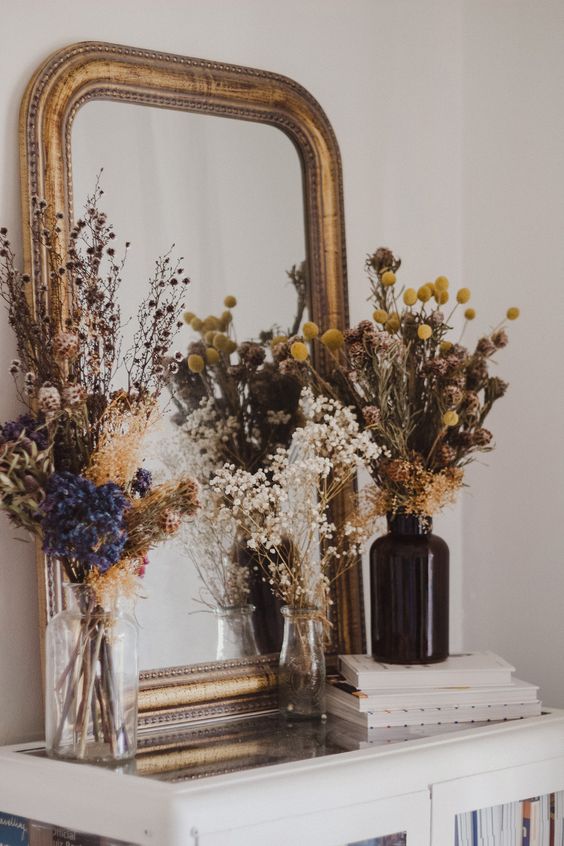 Use old vintage accessories
If you love to decorate with antiques, then why not display a dried bouquet in a vintage jug? Using vintage accessories is a brilliant way to create a quirky arrangement and would look lovely on a mantelpiece, on a windowsill, or as a centerpiece on a cottage kitchen table.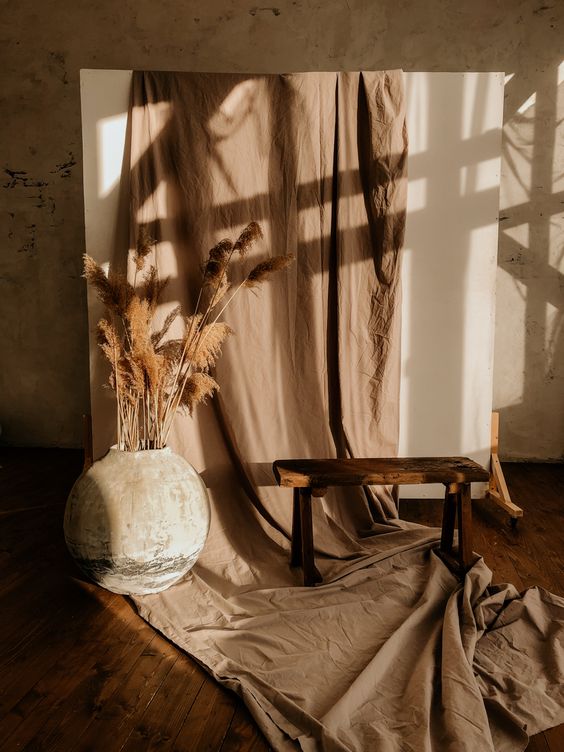 DRIED AROMATIC HERBS AND FLOWERS
If you plan to dry your home-grown herbs and flowers, then we advise you to make a beautiful arrangement by tying the bunches into a common wreath. Hanged like this, they will represent a chandelier of dry plants, and the unique aroma will bless the whole room.
To dry flowers and get the best results, you should dry them in bunches of stems about 5-10cm, but no more, otherwise, the flowers in the middle will rot. Trim the herbs and flowers and group them into bunches. Tie with hemp rope and then hang the wrists equidistant from each other on the wreath. Tie the entire wreath on all four sides and hang it on a hook from the ceiling.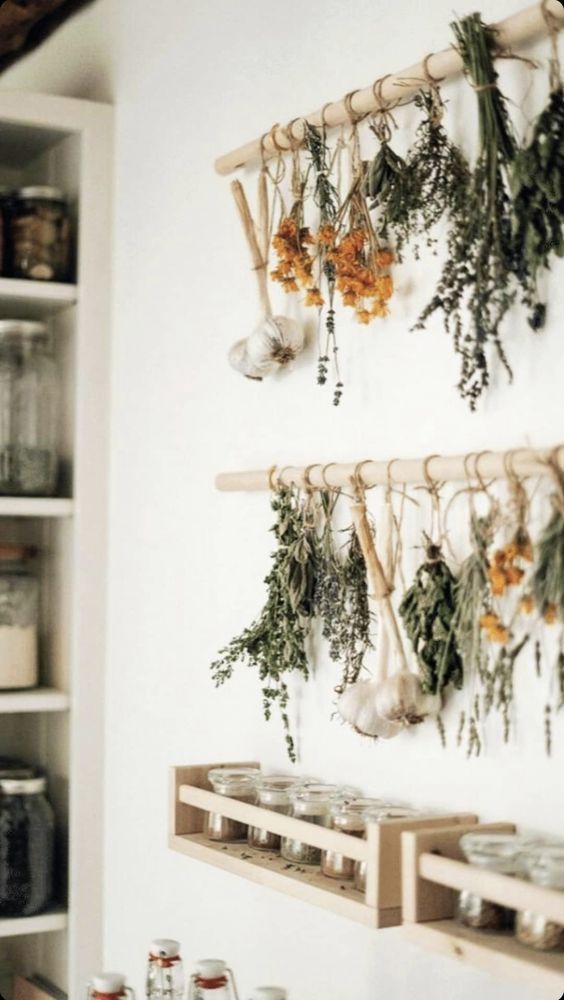 Napkin ring with dry flowers
A beautiful idea for decorating a dining table is a napkin ring with dry flowers. Delicate way to decorate the table, on special occasions! Use mimosa, daisies, rabbit tails, or gypsophila. Take some floral wire and roll it in a circle a few times to make the base like a ring, then squeeze a small group of flowers together by cutting off the long stems.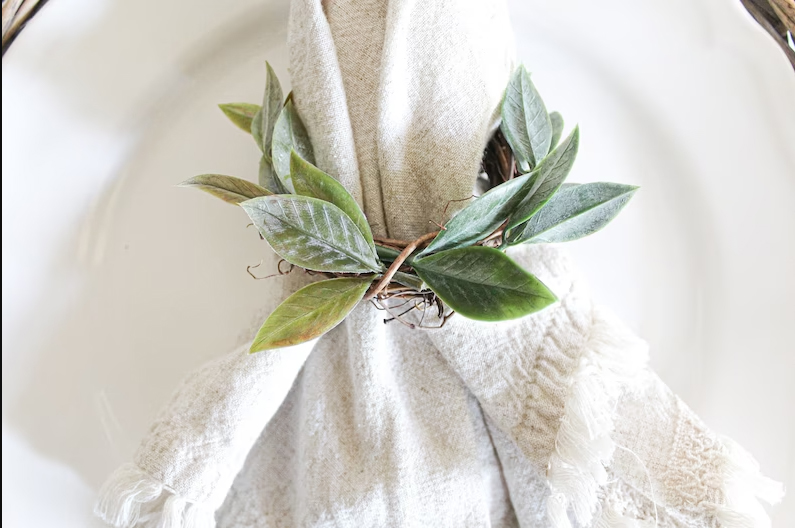 Make a Herbarium and seal it in a beautiful frame
Pressed dried flowers are perfect for framing and serve as botanical art on any wall. A series of herbariums displayed in frames bring the beauty and tranquility of the outside world to the inside home. They are a beautiful element that always looks great, whether it is in the bedroom, the living room, the kitchen, or the hall.
If you want to create a gallery of botanical species, we advise you to start framing on the floor. This will allow you to move the pieces around until you find the layout you like best. Remember, the key to creating a relaxing room is to allow the space to breathe around the artwork.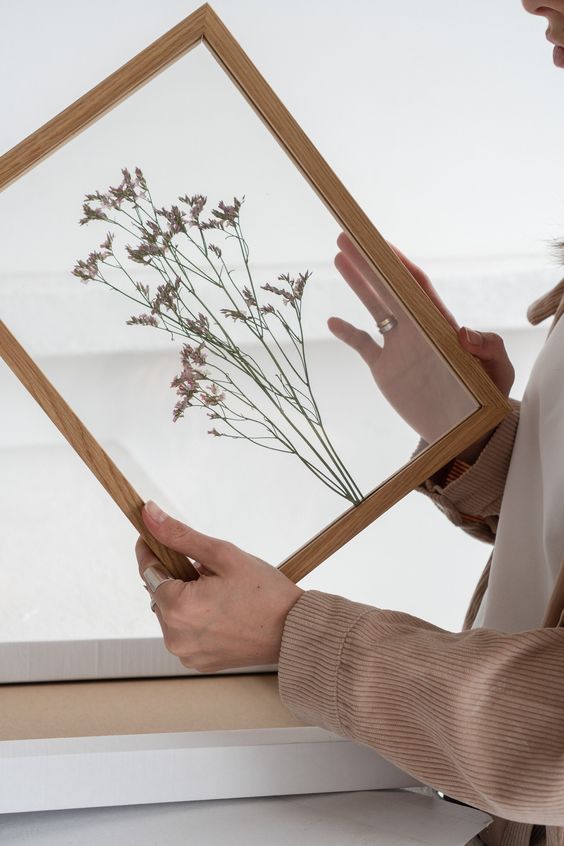 Growing houseplants can be good for both the body and the mind. Normal plant processes involve absorbing CO2 and releasing oxygen and moisture into the air, and physically both functions are useful, especially in a stuffy office space or home.
To help make your indoor gardening adventure enjoyable, we've listed 8 of the easiest plants to grow that you'll be able to enjoy even if you're not too good yet at caring for flowers, or you don't have the physical time in the hectic everyday life.
Create your own indoor oasis with these easy-to-grow plants!
.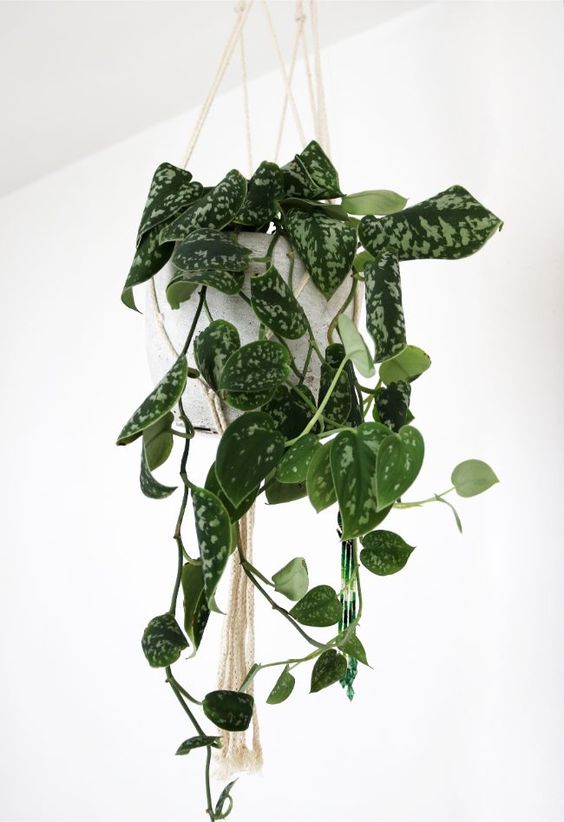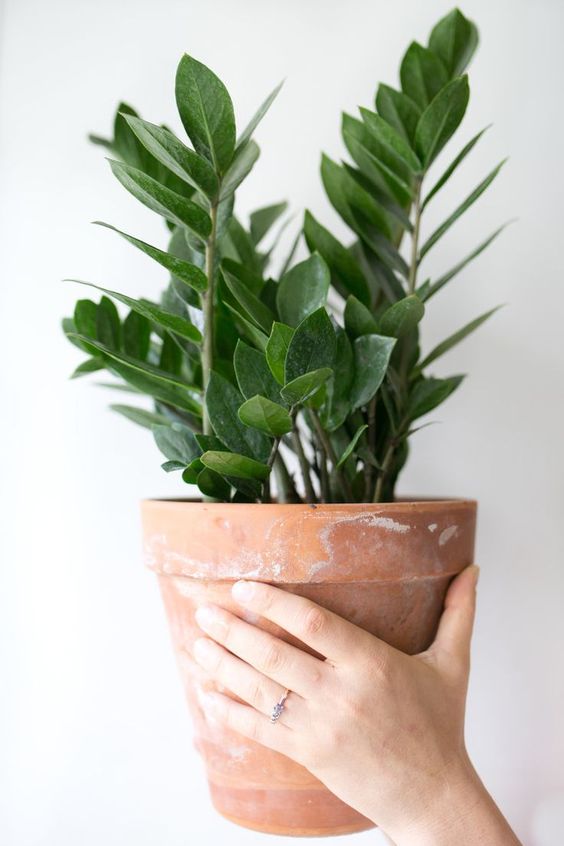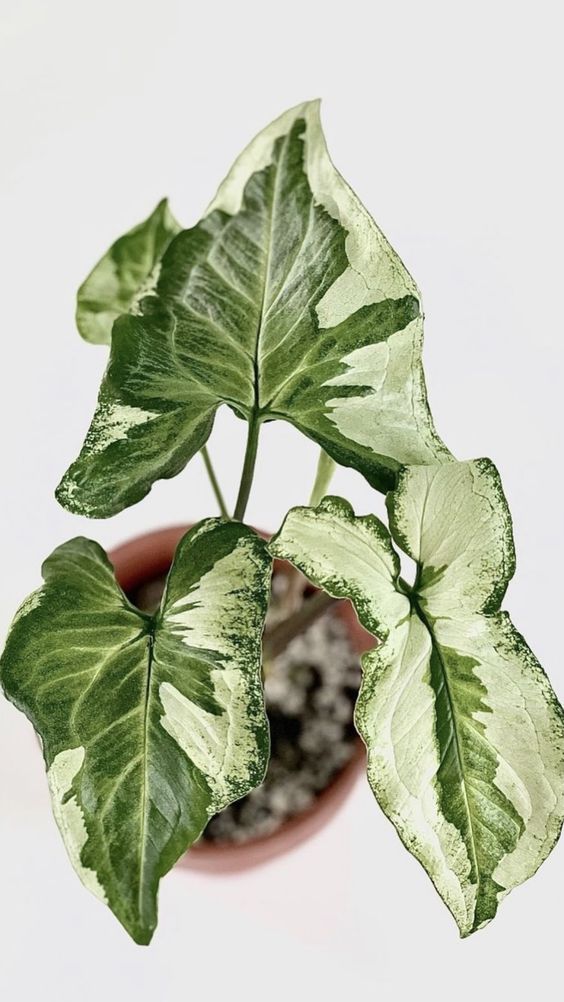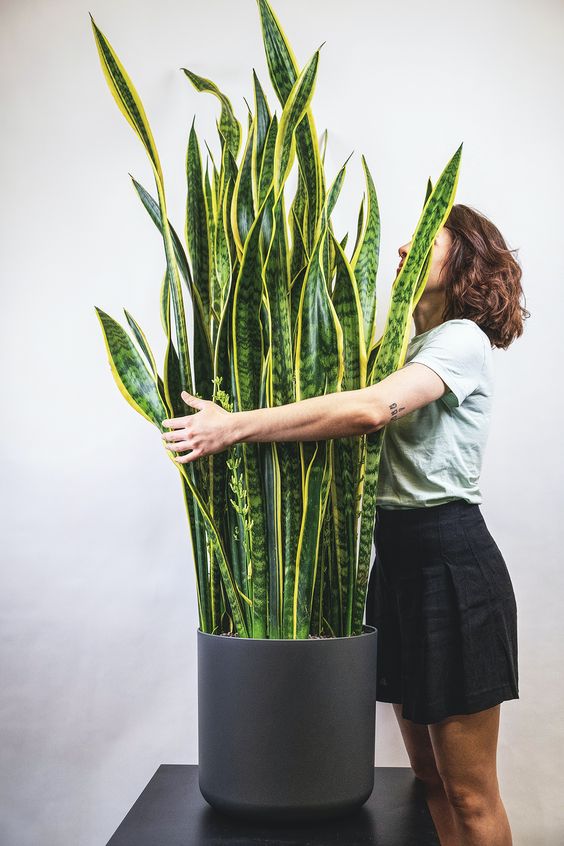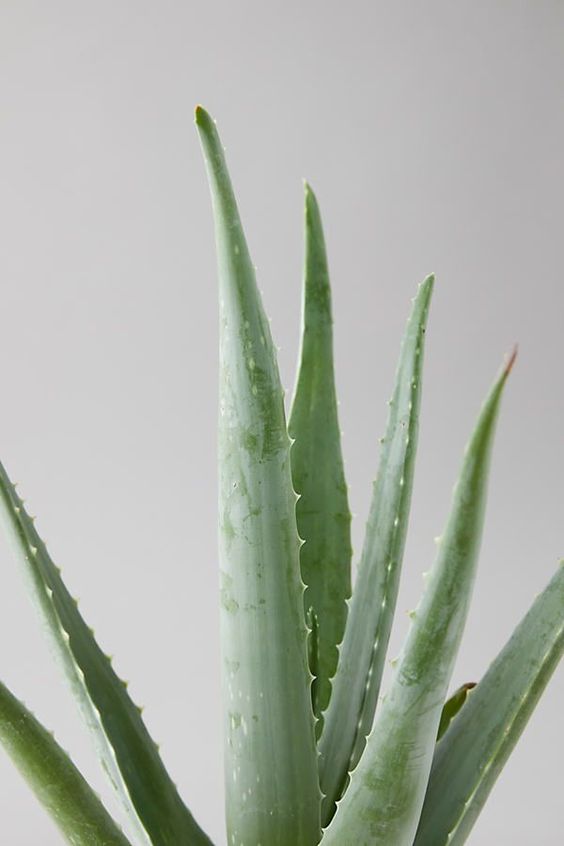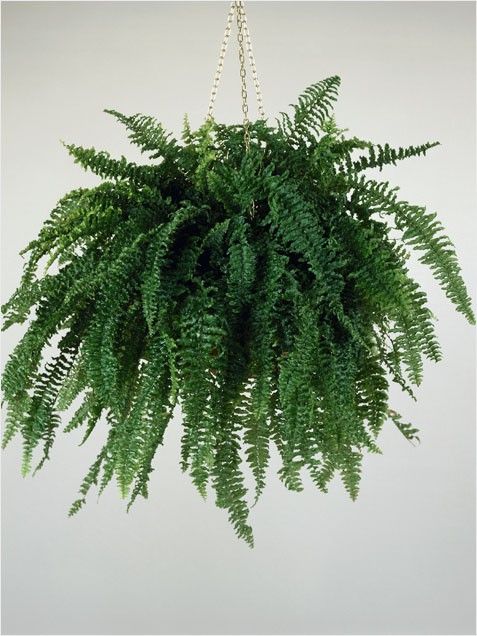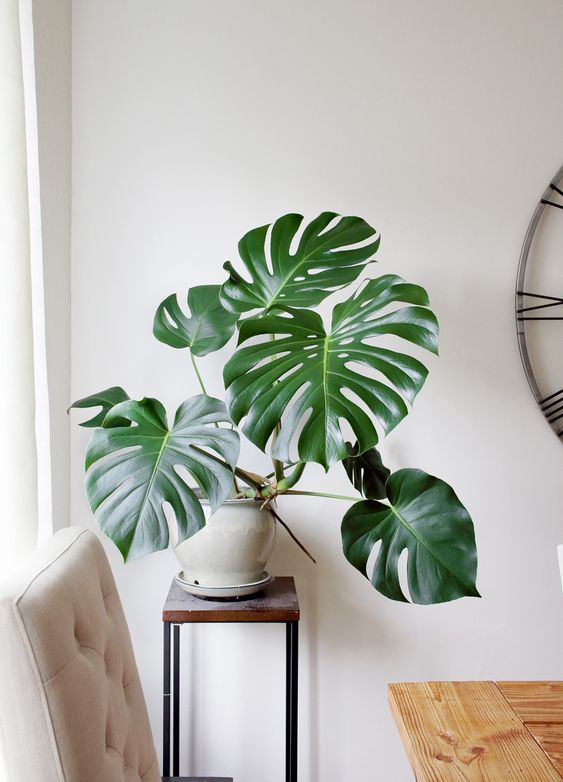 Plants have special superpowers and the benefits of living with them in your home are countless. Not only do they look great in the space and look aesthetically pleasing in appearance, but they improve oxygen, boost mood, and creativity, and also reduce stress, which automatically makes you healthier and happier.
The more the merrier!
From the health benefits to the look and feel of your space, there are many reasons why we think you can never have too many flowers. Plants have been proven to help relieve stress and connect with nature. Adding lots of plants to your space will create an extremely soothing indoor jungle that you'll love spending time in. Watching your plants grow and thrive is amazing and rewarding, and we can guarantee that once you've mastered caring for a plant, you'll want to challenge yourself with more. Also, houseplants like to be grouped together. Group placement of plants will create a microclimate that will make it easier for plants to retain moisture. In addition, this creates a greater power to purify the air, and plants such as Sansevieria, Aglaonema, Spathiphyllum, etc. will remove harmful toxins. The easiest way to fill a space with greens is to mix and match different plant sizes. Layering plants larger and smaller, will increase the lushness and help create that microclimate we're talking about. If you're looking for a quick way to transform your space with plants, check out our selections in the category of PLANTS  and we can deliver the flowers directly to your home!
Ако търсите бърз начин за трансформация на Вашето пространство с растения, вижте нашите предложения в категория растения, а ние ще ги доставим директно до Вашия дом.
The best plants for the bedroom
Transforming your bedroom into a peaceful and beautiful sanctuary of dreams is easy with some well-chosen plants. Fill the empty corner of the room with a lush, dramatic plant such as Dracaena Marginata, or an elegant Ficus. You can place the plant directly on the floor in a beautiful pot or give it some height on a flower stand or decorative table. Choosing an impactful and easy-care plant means more time for rest and relaxation and less time for worry!
Place one or two small plants on your bedside table. A heart-shaped philodendron, Maranta Leuconeura, or small succulent plants will leave enough space for your phone and current bedtime reading. Sansevierias are also a great addition to the bedroom as they produce most of their oxygen at night, cleaning the air.
Превърнете спалнята си в истинска скрита джунгла с големи и изящни растения като Юка или Арека. По-големите растения създават драматичен ефект с минимални усилия.
Не се страхувайте да се възползвате от пространството. Колкото повече място заемат растенията, толкова по-малко място има за натрупване на мръсни дрехи - поне това ще кажем!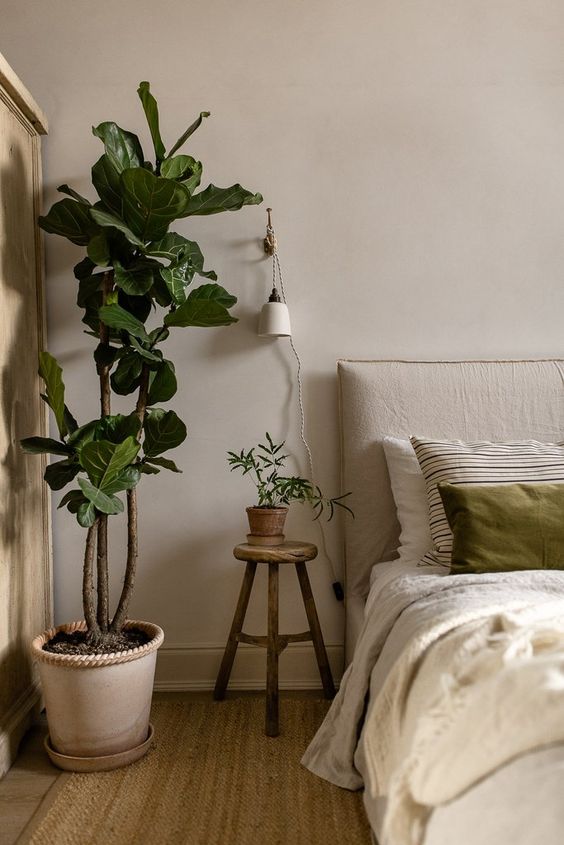 The best plants for the kitchen
Don't neglect your kitchen when you decide to get a new flower. Like the bathroom, the kitchen is often a bit more humid than most other rooms in the home. Choose plants that will thrive in extra humidity, such as Philodendron and Nephrolepis Fern. Lush green plants add a nice and earthy feel to traditional and not-so-traditional kitchens. Transform your space with our best plants!
In most kitchens, the countertop is the most important space in the place, so use plant hangers or the tops of your cabinets to keep your counter space free. Creeping and semi-creeping plants such as Zebrina, Stephanotis, Ivy plant, and Peperomia like to be positioned on a shelf or placed in a plant swing so that new growth can develop freely and cascade down.
Of course, most people don't have a lot of space in their kitchen for plants like a Strelizia /Bird of paradise flower/ or a giant palm, but adding groups of smaller flowers can have just as much impact. To incorporate this trick, group smaller plants together on a windowsill. Suitable plants for there are Aloe Vera, and Ponytail palm, which would love the bright, indirect light from a kitchen window. Apart from them, very suitable plants for the kitchen are herbs! Yes, the herbs, but not the dry ones, but the ones planted in a pot. In addition to the delicious aroma that will waft through the kitchen, you will always have fresh spices close to your hands while you are cooking!
Освен тях много подходящи растения за кухнята са билките! Да, билките които изпозлваме в кулинарията, но не сухите, а тези посадени в саксия. Освен вкусния аромат, който ще се носи из кухнята, Вие винаги ще имате на една ръка разстояние пресни подправки за Вашите гозби!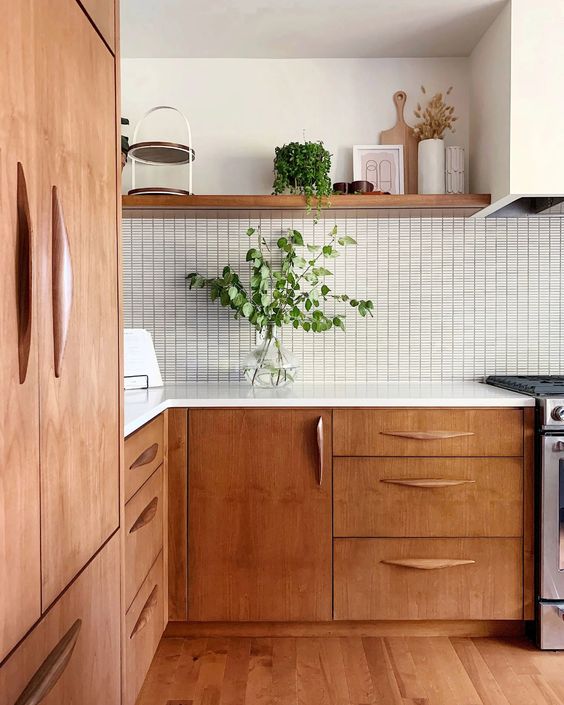 The best plants for the living room
The living room is where you and your family probably spend the most time, therefore it is also where you show your identity! Choose the most suitable plants for your living room and transform the space into an inner jungle that embodies you!
Add depth, color, and texture to your place by layering plants. Smaller plants paired with larger pots on the floor will not only look great but will also camouflage electrical cables and stuff you want to hide. Don't be afraid to choose bold and colorful plants like Aechmea, Strelitzia, Croton, or Dracaena, especially if your living room decor is more neutral. Use featured plants as a focal point.
Ако холът Ви е голям, запълнете визуалните празнини с голями растение. Всекидневната е перфектна за експозиция на Фикус Лирата, Дървото на живота, голяма Калатея Розеопикта, Фикус Бенджамин. Ако сте семейство в движение или сте по-скоро разсеяни към грижата към цветята, наблегнете на растения лесни за отглеждане като Сансевиера или Замиакулкас.
Растенията в големи саксии са склонни да издържат по-дълго време между поливанията в сравнение с растенията в малки саксии, което означава по-малко работа за Вас. Но ако забележите, че Вашето голямо растение изсъхва по-бързо от обикновено, може би е време за пресаждане. 😉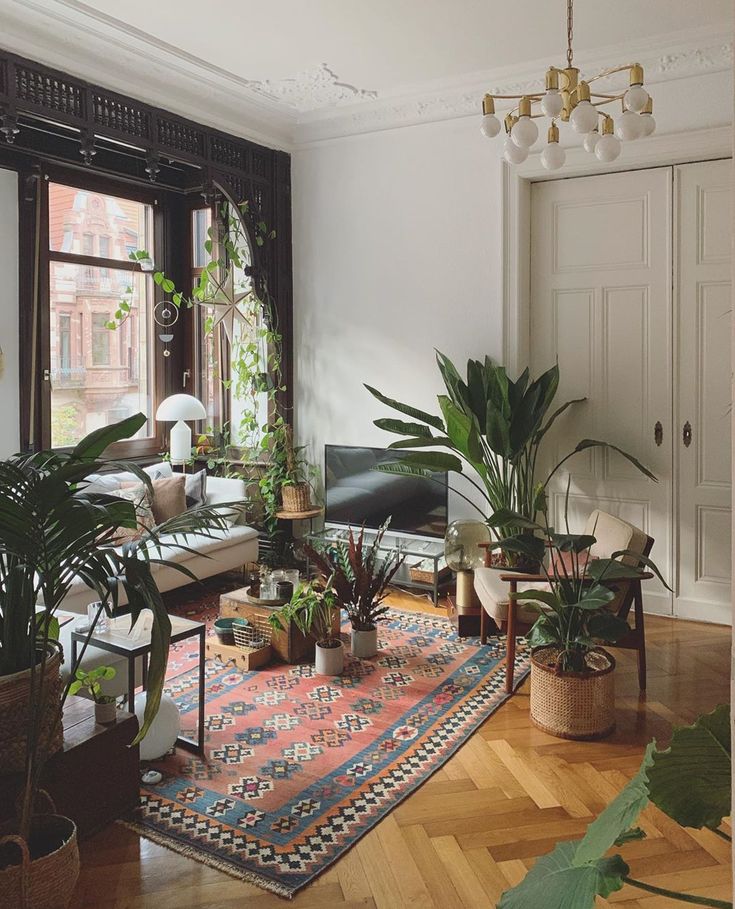 The best plants for low-light places of your home
Although we all dream of large windows that can fill our homes with sunlight, we know that it is not always possible to have picturesque windows with which to provide good light for our houseplants. If you are discouraged about your plants not thriving in the darker parts of the home, not every hope is lost! Many plant species naturally grow in low-light environments. Some of them are:
Maranta
Ivy Plant
Philodendron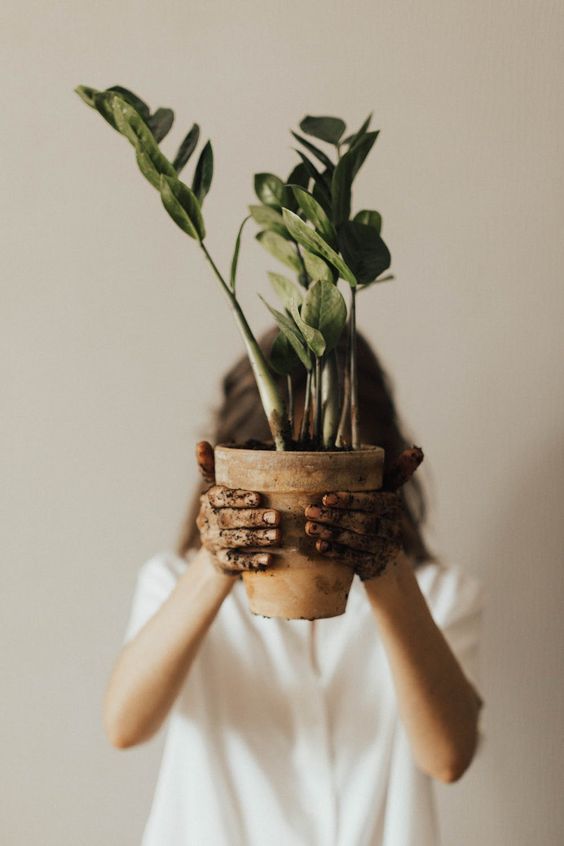 How to choose the best houseplant for you?
Without a doubt, there are thousands of options for decorating with indoor plants, which makes it difficult to choose the most suitable flower for your space and life. Top-Flowers believe that anyone could take care of flowers, but it is important to choose the right plant first! However, everyone's life moves at a different pace and we all have different priorities and homes. Let's break down some considerations to think about that will help you find the best houseplant for you that will not only survive, but thrive. Before getting a new plant, ask yourself the following questions:
Нека разбием някои съображения, върху които да помислите, които ще ви помогнат да намерите най-доброто стайно растение за Вас, което не само ще оцелее, но и ще процъфтява.
Преди да се сдобиете с ново растение си задайте следните въпроси:
What level of care could you provide?
Just like people, plants have different temperaments. Some are easy to grow, require no special maintenance, and are adaptable. They won't die if you forget to water them and they can bloom in less than ideal light conditions.
Other indoor plants like their soil to have just the right amount of moisture. They may need frequent spraying and do not like to be in cold places. They're all beautiful and have health benefits, but that doesn't mean they're necessarily the right houseplants for your home.
So before choosing a plant, consider your level and experience with plants and the amount of time you can actually devote to your houseplants. If your life is hectic, running back and forth between dates, and meetings, working long hours, and traveling often, an easy-to-grow plant might be the best fit for you.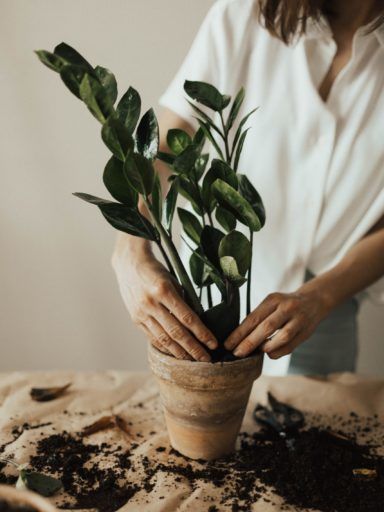 What kind of light do you have in your home?
Plants need light! Some plants need more light, and others hardly need it, but it should still be present in the space! Most houseplants will do well in locations with east- or west-facing windows. This provides the plants with enough sunlight for the better part of the day and diffused light the rest of the time. Southern light is strongest and best for light-loving succulent plants. But keep in mind that most flowers will burn if placed in direct light - where the sun falls directly on their leaves.
However, there are a few plants that will adapt to all different light levels and will even thrive in dark spaces where there is only fluorescent light. So, if the beige and gray walls of your office seriously disappoint you, there are plants that will successfully brighten up your workspace!
What is most important to you when choosing a plant?
Now that you've figured out the first and most important questions to ask yourself before heading to the flower shop, here comes the fun part - why do you want a new houseplant? Is it only aesthetically and love the way a plant looks? Want to purify the air? Or would you like your children to grow up with greenery around you since you live in the city? Whatever your motivation, keep in mind that flowers change lifestyles and are always a good idea!
Still need help the flowers?
Reach out to our team at Top-Flowers and ask your questions about the plants. We will be happy to answer any questions you may have about the specific species!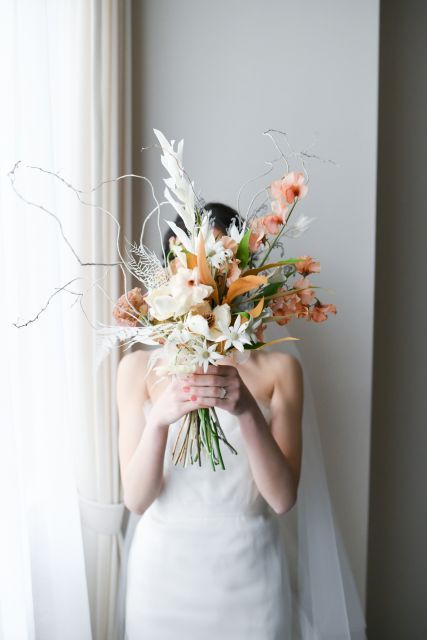 Every woman loves flowers, not only to receive them as a gift, to decorate her home or to wear them, but even more, as a bouquet to carry and complement her wedding dress on one of the most memorable days of her life. A bridal bouquet is an essential part of the modern bride's outfit, whether it's a lavish and rich atmosphere or a simple garden wedding in the family home. It is true that flowers add visual beauty and a touch of romance to a wedding, but there are deeper reasons for their presence.
History of wedding flowers
The flower-bearing bride has had its cultural roots since ancient times. There is evidence of the use of flowers at weddings as far back as the earliest recorded historical period in Egypt, Greece, and Rome.
Egypt
The ancient Egyptians, who flocked to the fertile lands along the Nile, gathered flowers during their travels and worshiped the local lotus. The symbolic lotus appears widely in Egyptian art, a poem on papyrus dating from around 1100 BC mentions love and lotus flowers. Back then, marriages were simple, civil arrangements, and archaeological findings only show that Egyptian brides wore thyme and garlic as a shield against evil spirits.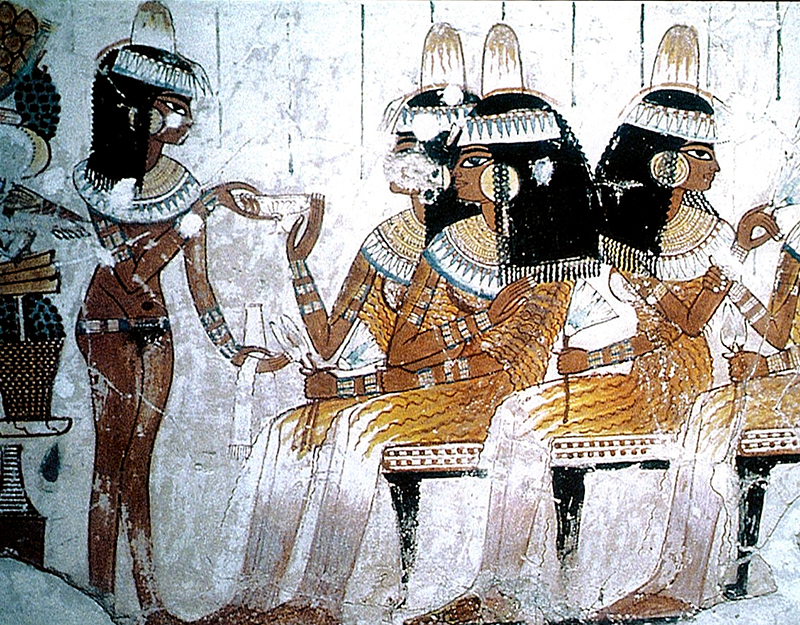 Ancient Greece
Garlands and wreaths used in Greek weddings include olive branches, fragrant white flowers, herbs, and orange blossoms in honor of the goddess of marriage and fertility, Hera. Hanging ivy symbolizes the unbreakable bond of marriage, and white flowers signify sweetness and happiness.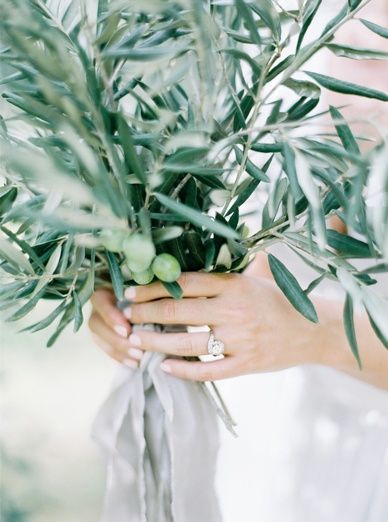 Ancient Rome
In Ancient Rome, brides wore wreaths of flowers, believing that flowers signified new beginnings, fidelity, and the hope of fertility. Roman couples followed a similar custom to the Greeks, weaving wedding flowers, herbs, and greenery into crowns scented with orange blossom to ward off evil, honor the gods, invoke fertility and attract good luck. The ancient Romans are believed to be the first to adopt the practice of sending their brides down the aisle with bunches of herbs that symbolize fidelity and fertility. Fennel, a known aphrodisiac at the time, was common in these bouquets, as the herb of lust was believed to increase sexual desire. Sometimes garlic was used in bouquets as it was believed to protect the bride from bad luck or evil spirits.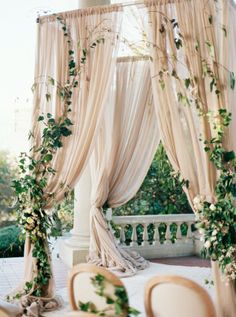 Middle Ages
In the Middle Ages, aromatic herbs and abundant grains such as sheaves of wheat were symbolic wedding flora, along with flower garlands worn by the bride and groom. A medieval bride might wear her hair untied, braided with scattered flowers or a wreath, and attach a packet of herbs and potpourri to her dress.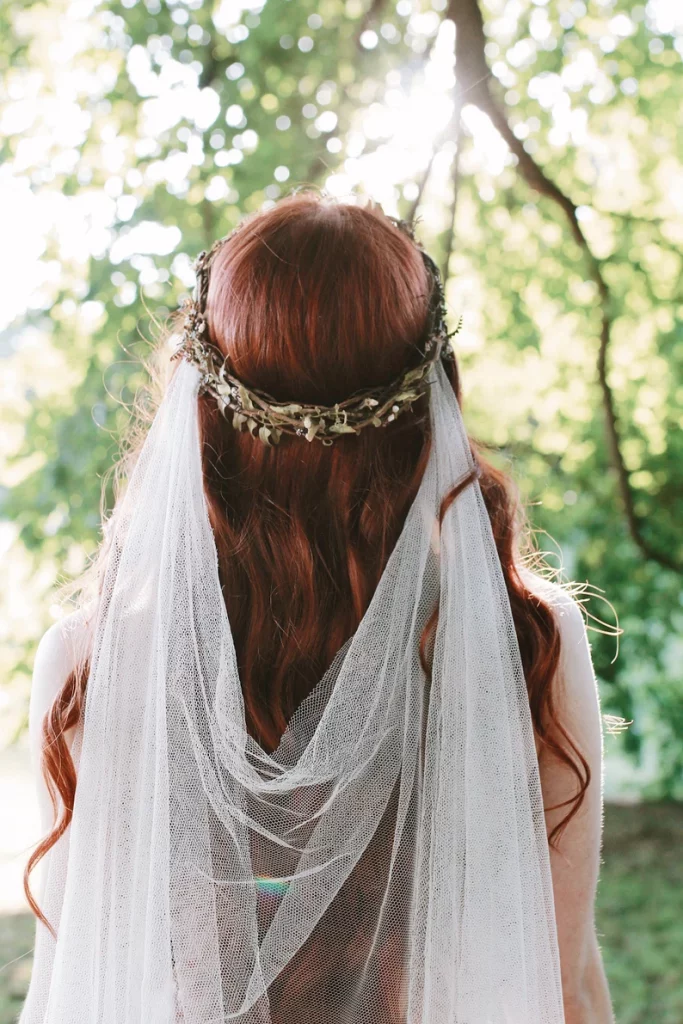 Victorian era
During the Victorian era, flowers became part of the wedding bouquet and this continues to this day. The modern version of the bridal bouquet was popularized by Queen Victoria. No doubt she was a fan of "Tussie Mussies," the old English name for a small bouquet. In Victorian times, lovers often sent different flowers as a way to express their love. Each flower has a different meaning. Thanks to this romantic relationship, flowers became part of wedding ceremonies. Brides carefully choose flowers for the feelings they feel, and the flowers they wear on their wedding day become "her flowers" for the rest of their life.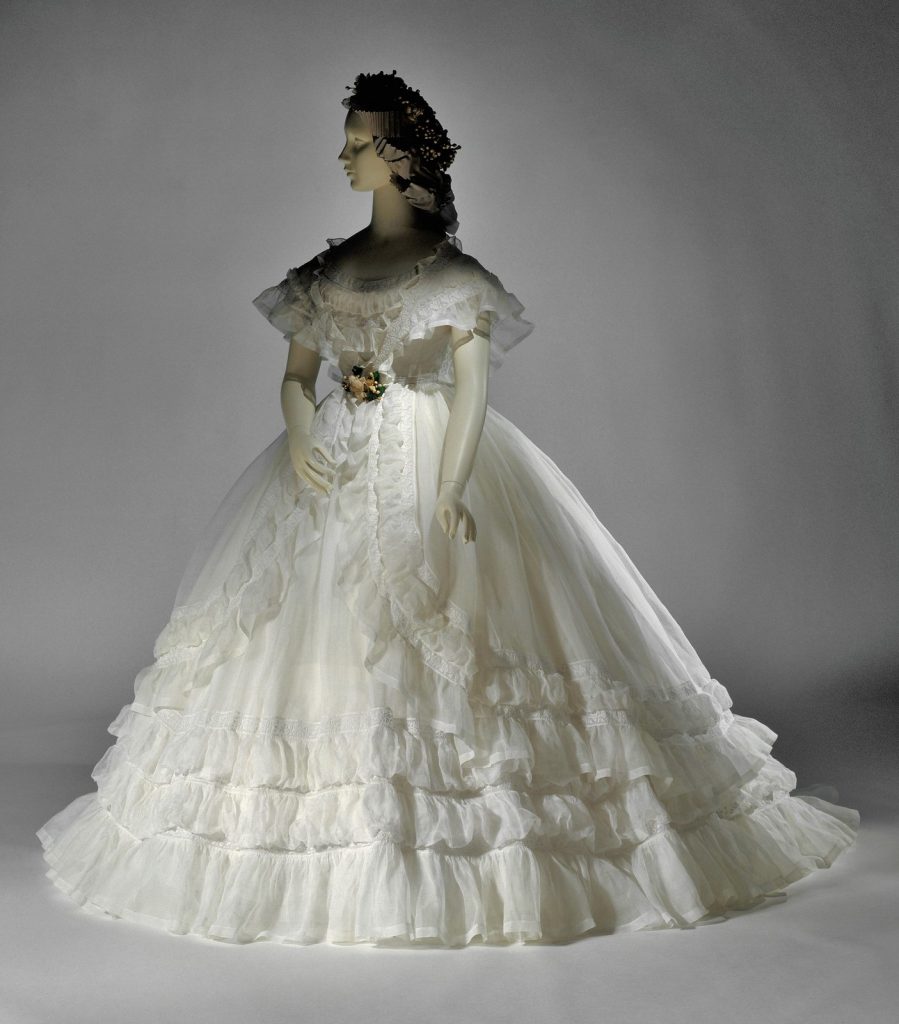 Modern era
The compact Biedermeier bouquet, first seen in Switzerland and Germany in the late 1800s, has a formal design of concentric circles of flowers with a short wrapped stem, very symmetrical, very geometric, and modern, which may explain its appearance at weddings today.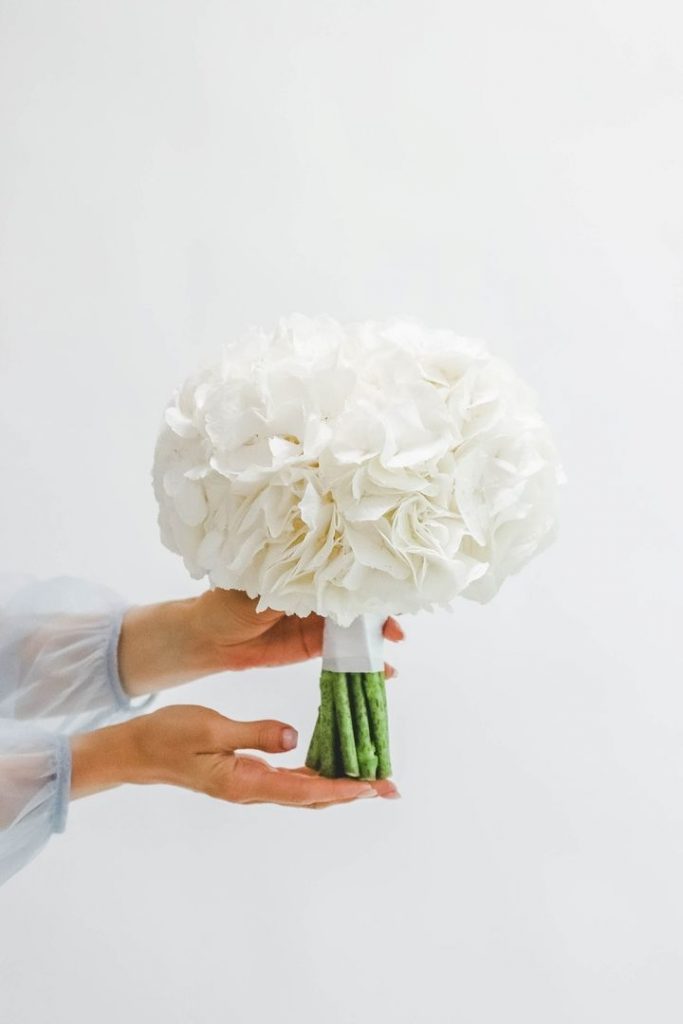 By the twentieth century, flowers were a must for weddings, even modest ceremonies requiring a bride's bouquet. A full traditional wedding means flowers, flowering branches, and potted trees for the service and celebration, bouquets for the female bridal party, and boutonnieres for the men.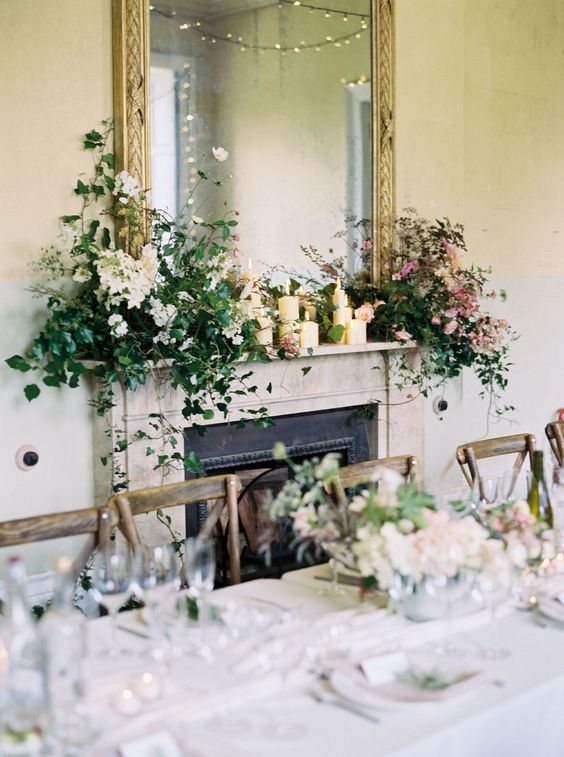 In modern times, as charming as they may have looked, the old traditions are almost forgotten, with brides now choosing flowers for the beauty of their colors, fragrance, and form. A bouquet is a bride's ultimate accessory and greatly contributes to the overall look of the day. The bride's chosen colors are a way for her to express her personal style, taste, and personality and a major addition to her dress.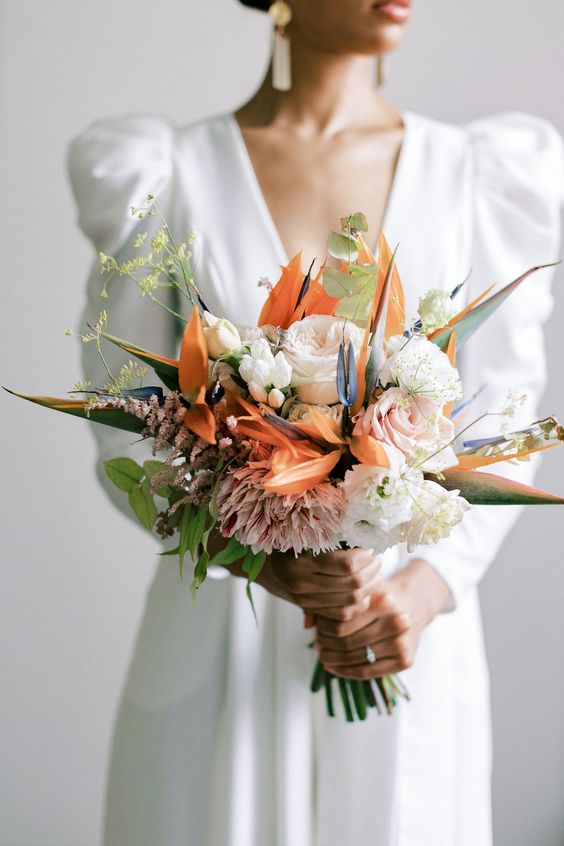 What is the tradition behind bouquet toss?
The bouquet toss is a historic tradition that continues to be embraced by many brides to this day, although many don't know how it came to be. It originated in medieval Europe when it was normal for women to rip fabric from the bride's wedding dress for good luck. To prevent the guests from tearing her gown to shreds, brides began to toss their bouquets as a distraction to guests, allowing her to make an escape with her dress intact. Grabbing the flowers was considered an act of good fortune, as the accessory symbolized fertility coming from a married woman.
Nowadays, the tradition is that if a single woman catches the bridal bouquet, she will be the next one to get married. The bouquet toss now takes place during the second half of the reception, after the cake is cut and the speeches are made, when the party is in full swing and all the ladies will be on the dance floor, ready to catch the flowers.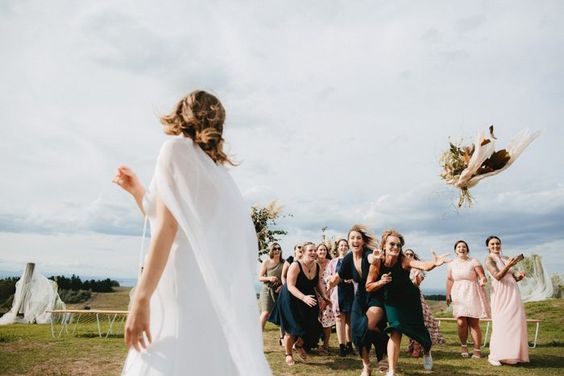 What happens to a bridal bouquet after a wedding?
Some brides may decide to skip the bouquet toss, so they can keep their arrangement for themselves. Amongst those newlyweds, it has become common to preserve wedding flowers after the ceremony, using techniques like drying, freezing or pressing. Brides can then choose to frame their bouquets, or transform them into paperweights, creating an additional keepsake of their special day that they can treasure forever.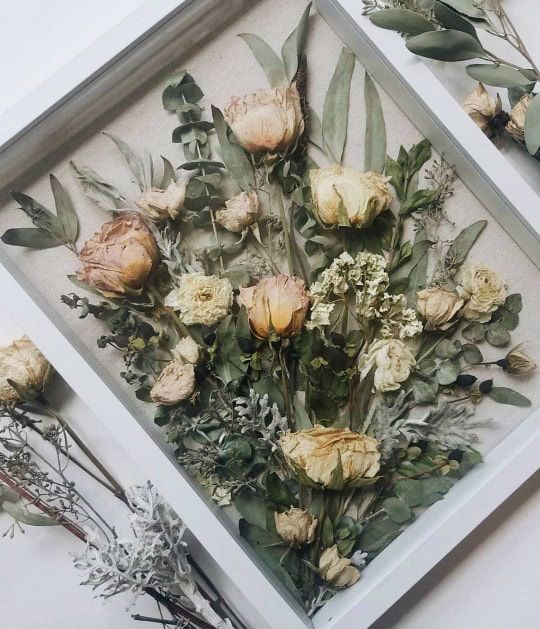 Top-Flowers WEDDING FLOWERS
Wedding floristry is something extremely unique, individual, and important. It is important for you, because in this way you will add an exquisite individuality to your wedding, on your special day, and it is important to us because you entrust this individuality to us! Be sure that the arrangements, bouquets, and all flower compositions will be prepared with the freshest flowers, we will select the rarest and most interesting varieties of flowers, and we will make each decoration unique, so that you can happily welcome your guests to your wedding day and above all to be able to immerse yourself in the colors and aromas of fresh flowers because a wedding without flowers is simply an event devoid of individuality.
Our wedding preparation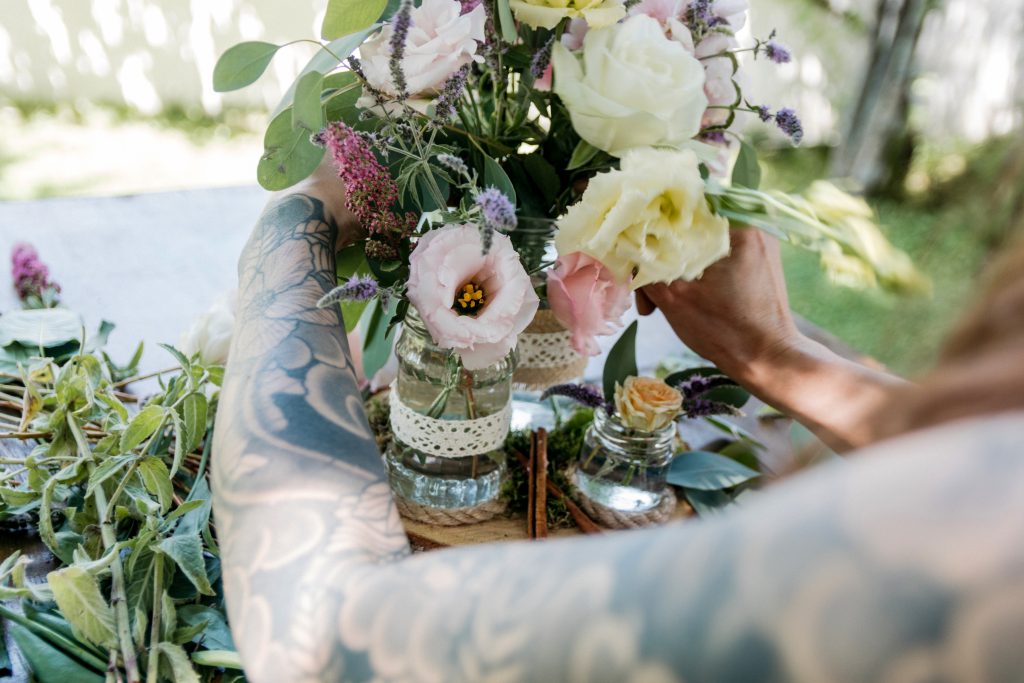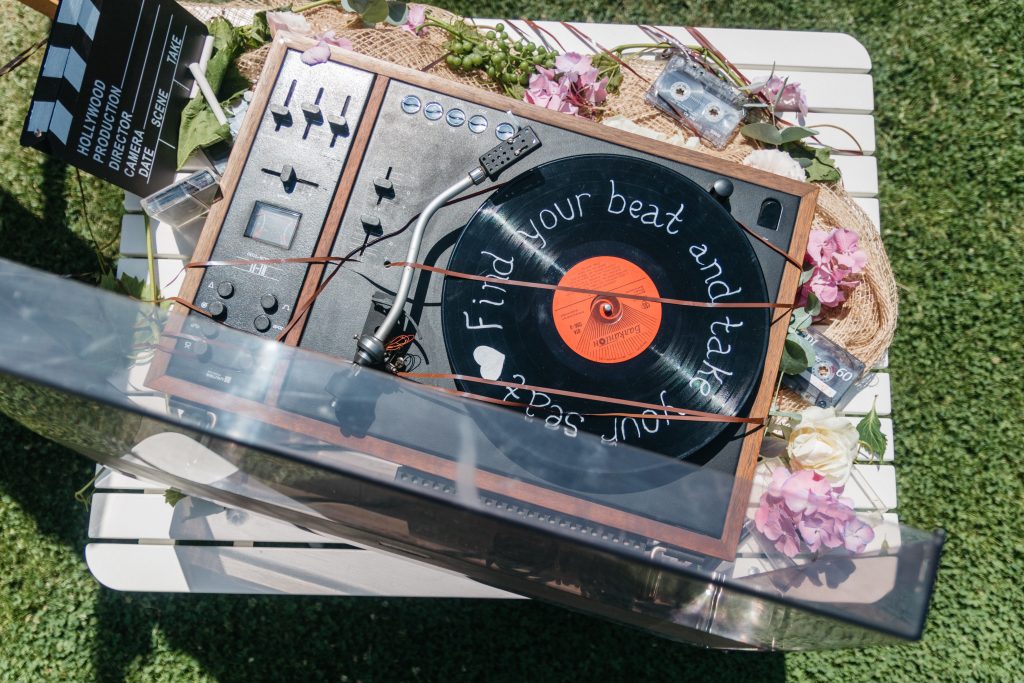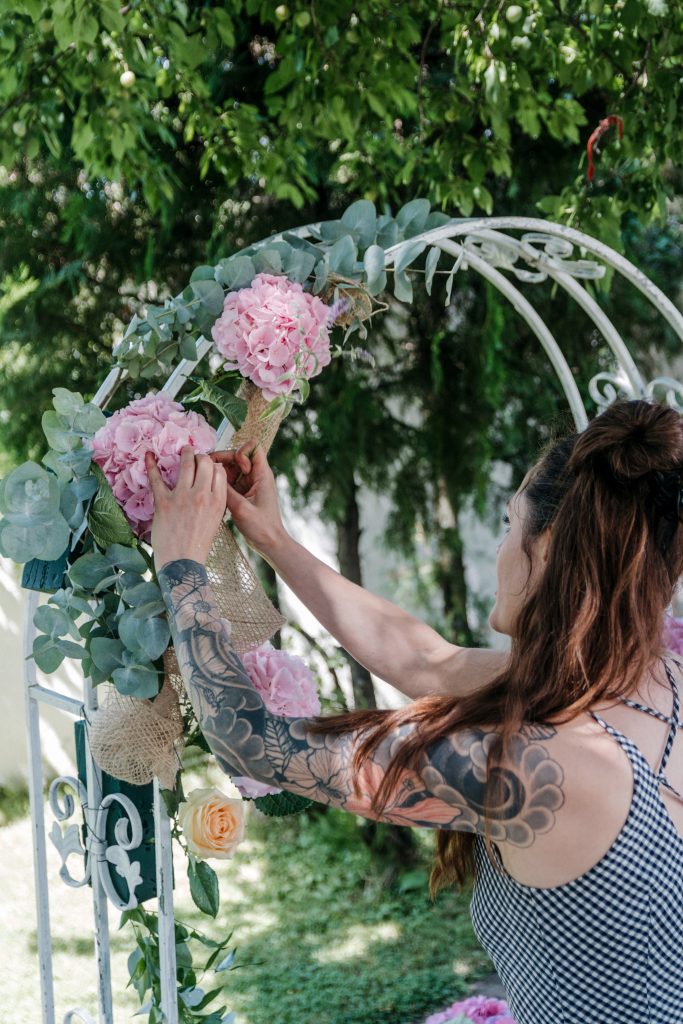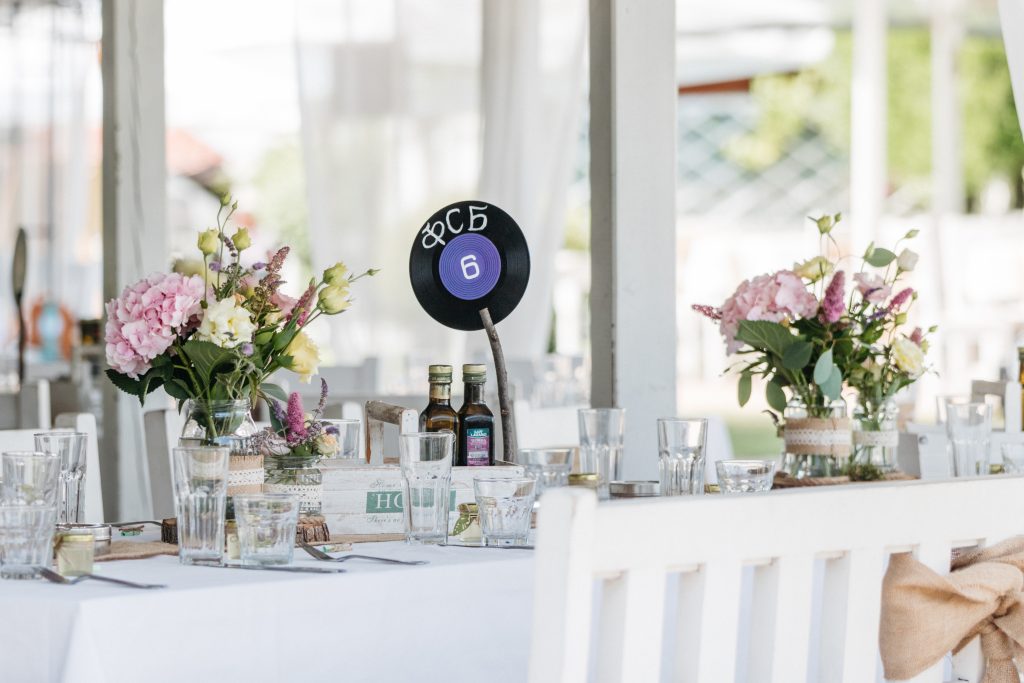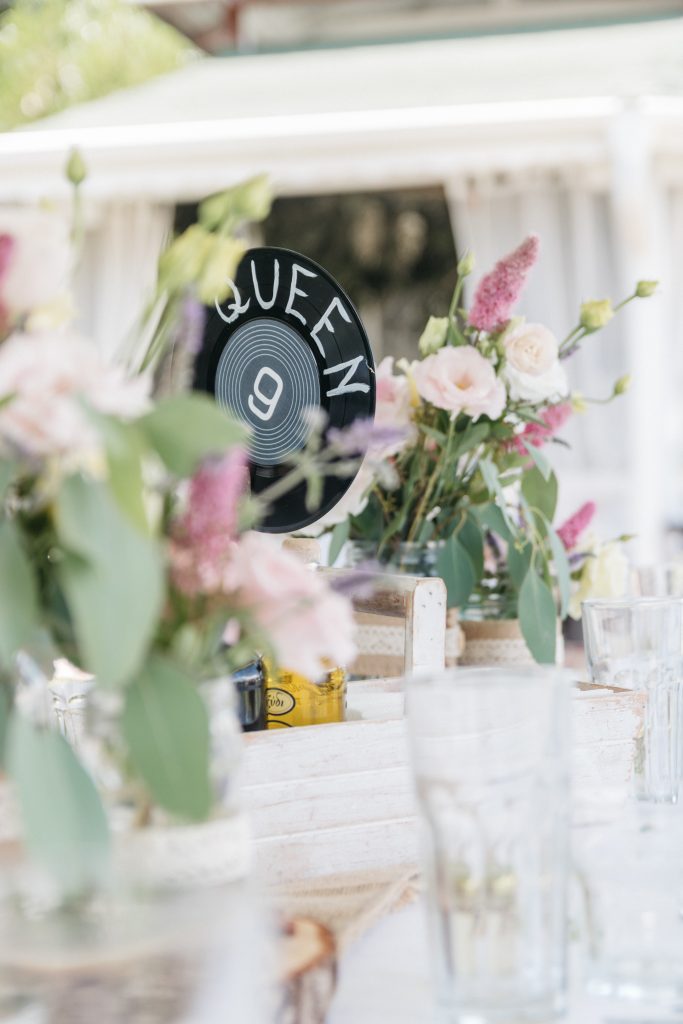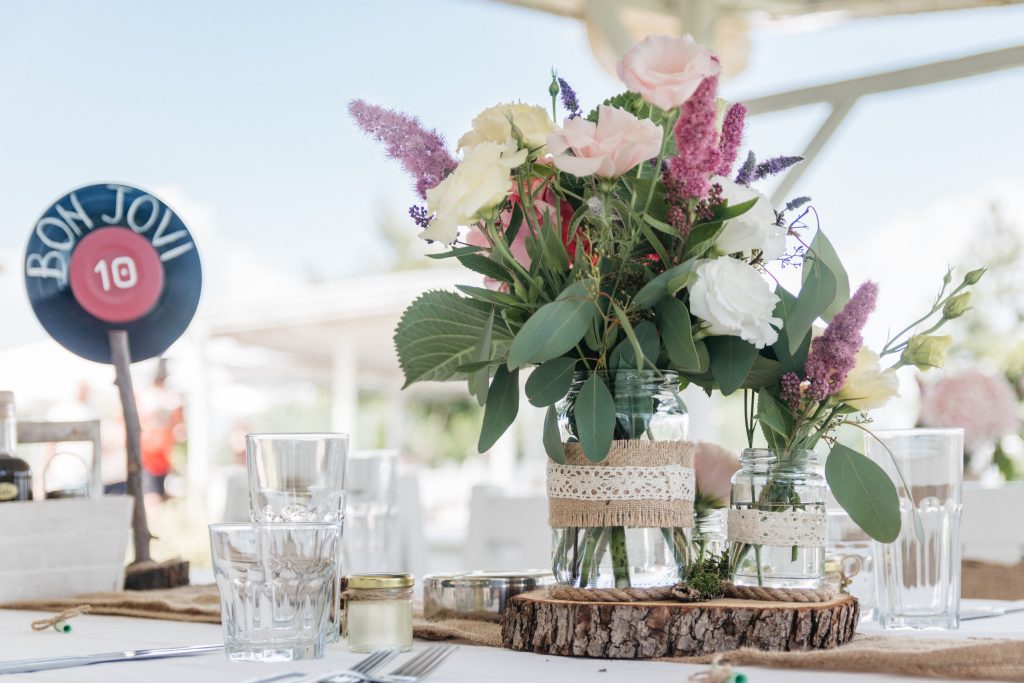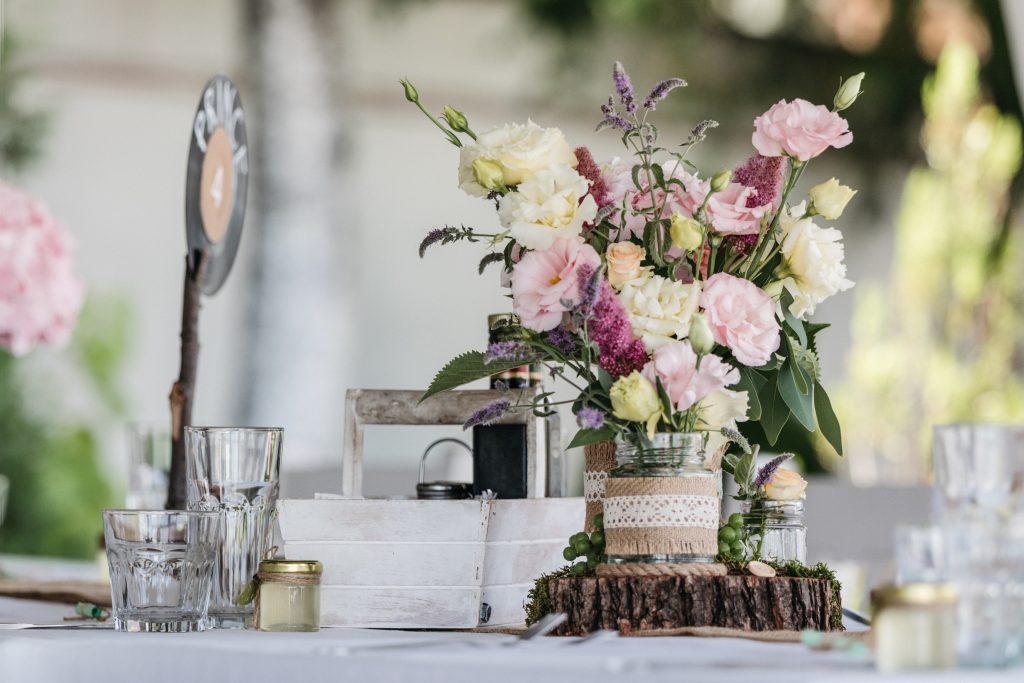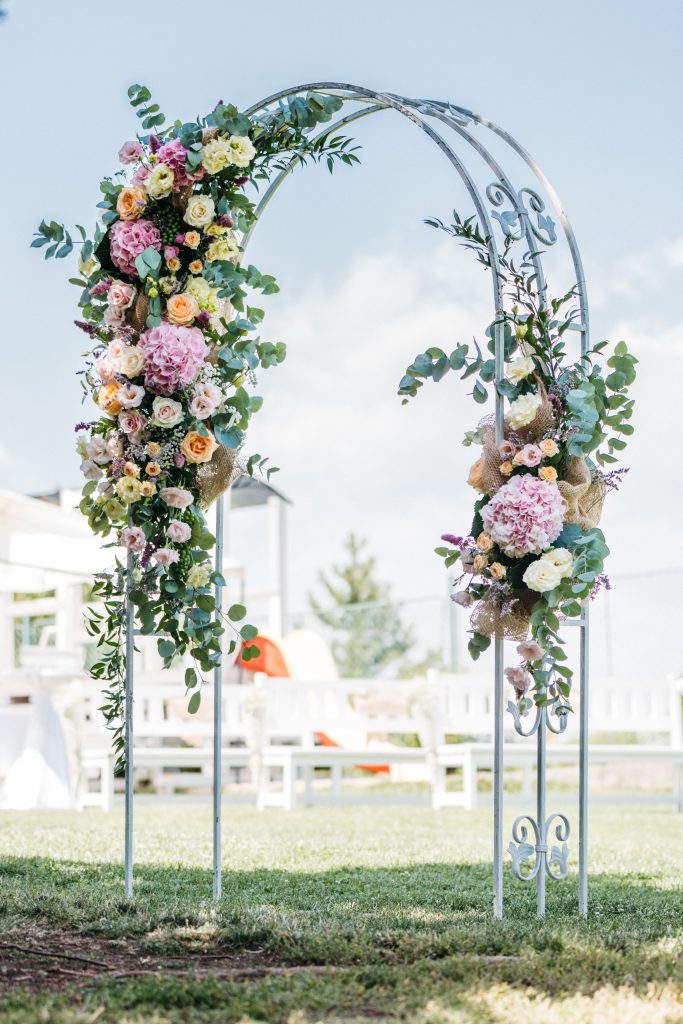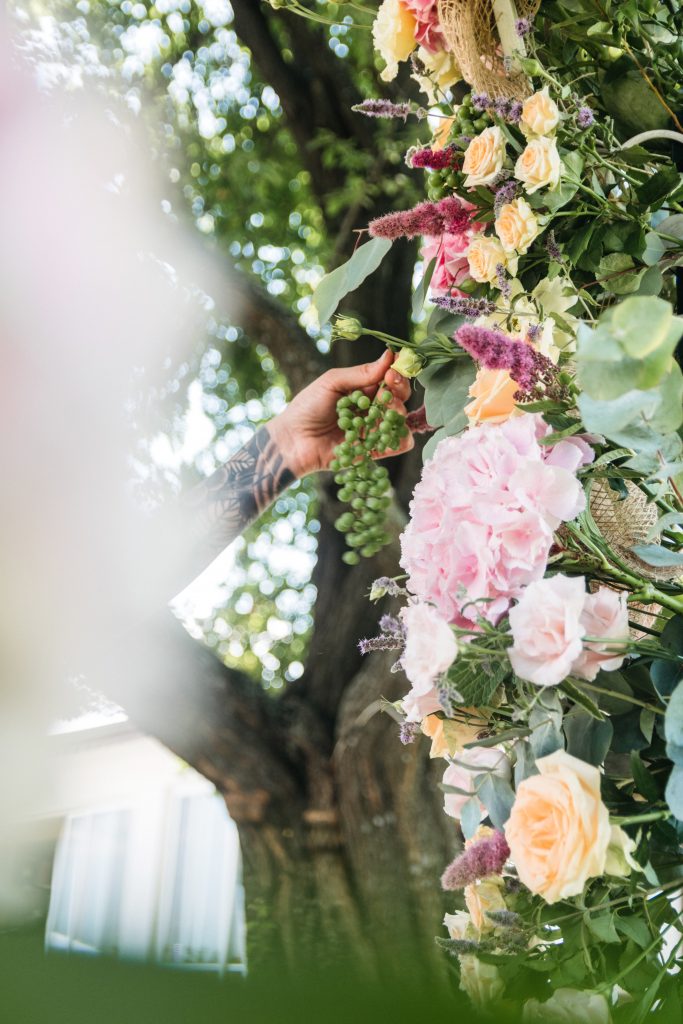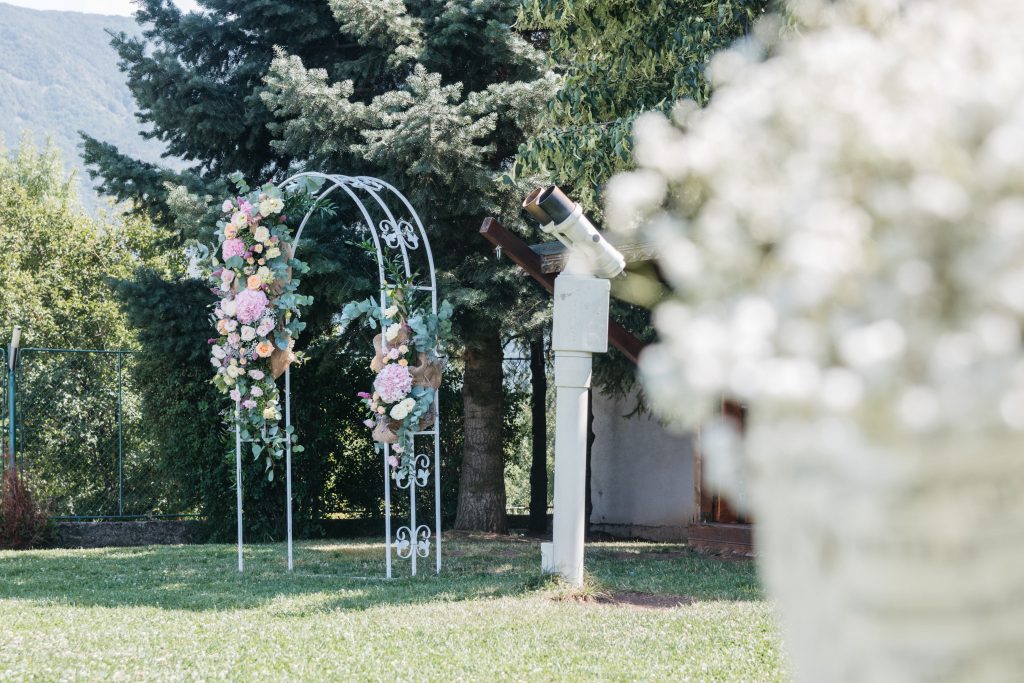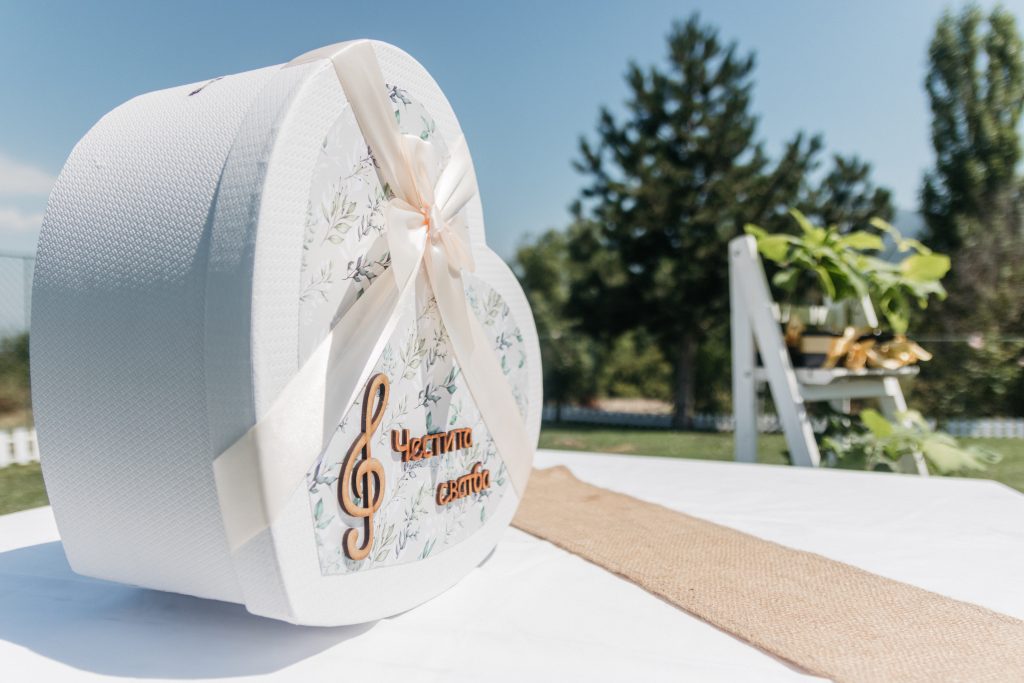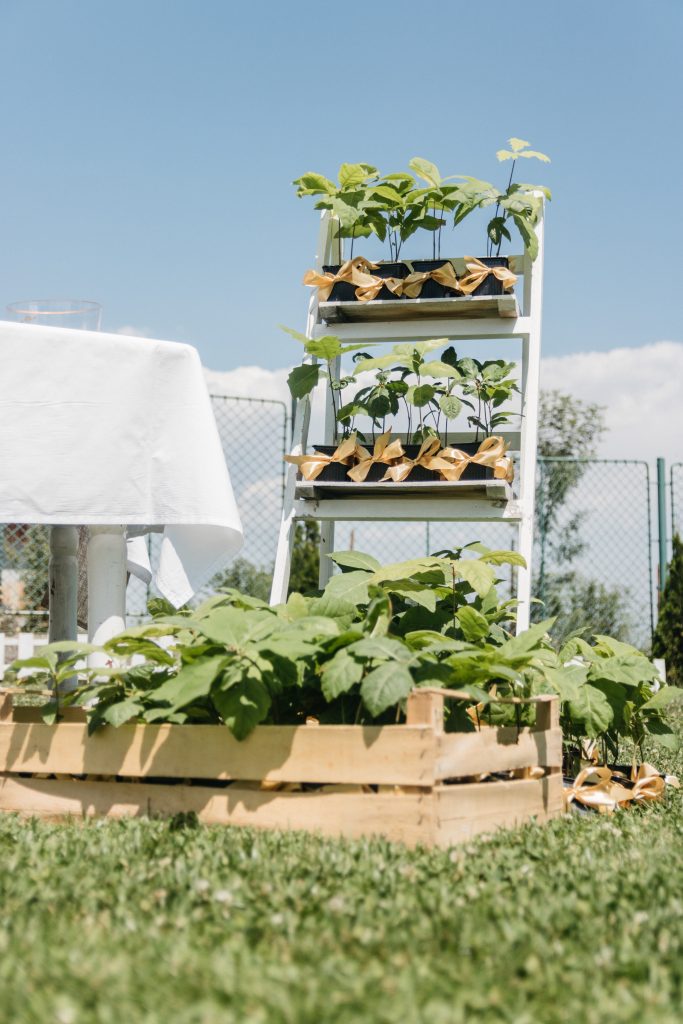 Whether it' for s birthdays, weddings, corporate parties, Valentine's Day, gatherings, anniversaries or surprises, flowers are always a good gift.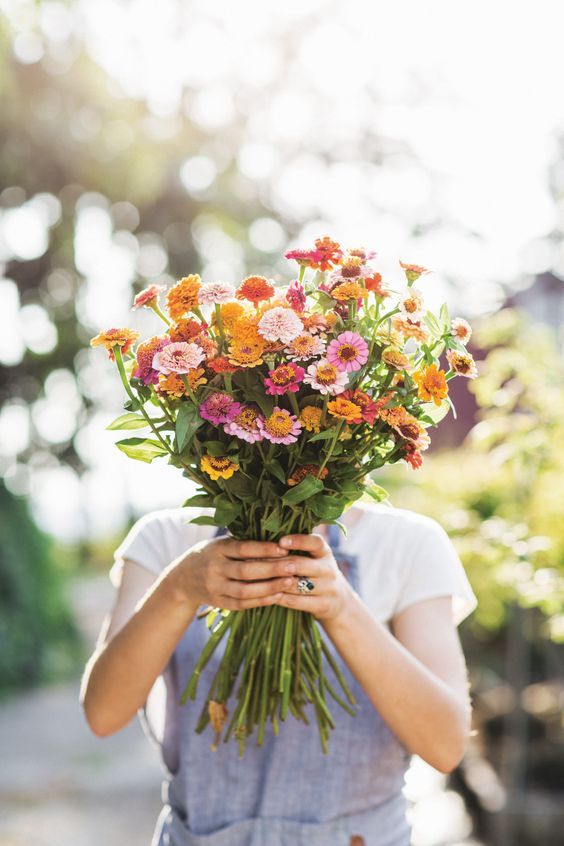 Why do we give flowers as gifts? The history of flower giving and why this tradition is so valuable and important.
History of giving flowers
The art of giving flowers is something that is encouraged in every culture. A fresh bouquet of flowers has been one of the best gift choices for centuries and it's easy to see why. Every occasion is suitable for giving a bouquet of flowers, as flowers are the perfect way to refresh someone's day.
The origins of giving flowers can be traced back to the prehistoric roots of our ancestors, when tribes are believed to have exchanged flowers and herbs that were used for healing properties. The following recorded evidence of flowers donated as a means of communication can be found in ancient Egyptian hieroglyphs and Chinese writings. History, myths and legends show that flowers were an important element of social traditions in ancient Greece, Rome, China and Egypt. Although it is not possible to determine the exact period when someone first gave a flower, we know that people have given flowers since ancient times. Remains of petals have been found in many prehistoric tombs, indicating that they were already part of human civilization. During these times, they are the most common way for people to express their emotions. In addition, Greek mythology is full of references to specific flowers representing gods and goddesses. The custom of offering flowers remained in the Middle Ages, especially among the English and French. At that time, the church prevented couples from publicly acknowledging their feelings, so flowers were used as a hidden means of expressing love and desire. This art of communication was known as "Floriography" or "The Language of Flowers" and prevailed later in Victorian times. Victorians came up with the creation of bouquets to send hidden messages, such as giving flowers upside down or using the "wrong" or weaker hand to give flowers at that time changed the meaning of the message. Today, there are several books on floriography that have survived the Victorian era, which include detailed written explanations of the meanings of flowers and how they should be arranged to send certain messages.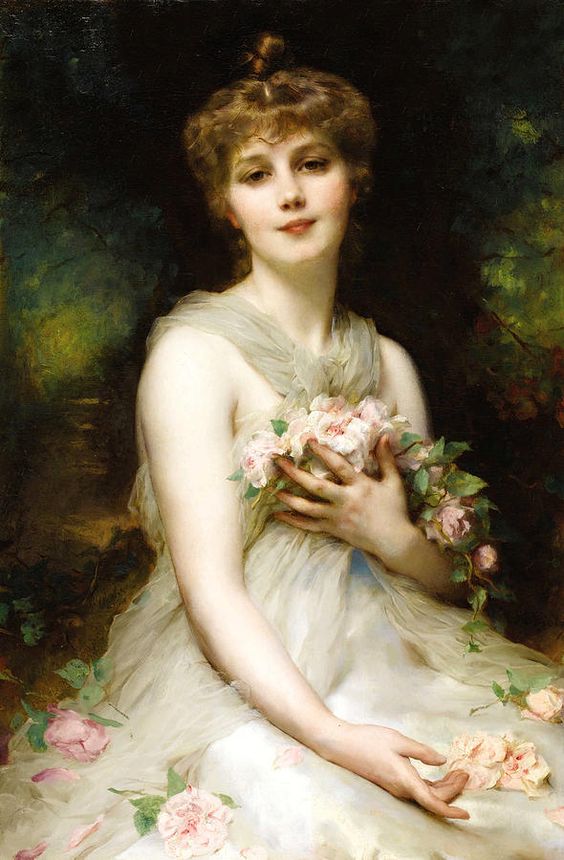 Why we give flowers
One of the best things about getting flowers is the instant happiness we feel. This feeling and influx of emotions, which is expressed through flowers, demonstrates true pleasure and gratitude, creating an instant smile on the face of a loved one. This immediate happiness goes hand in hand with the gift of flowers for special occasions. Flowers themselves bring positivity and have the ability to make people less lonely and sad. Research shows that flowers make us less anxious and depressed, so it's no surprise that giving flowers leads to feelings of enjoyment and satisfaction.
The visual effect of blooming flowers is reflected long after the gift. Often used as part of interior decoration, flowers can provide a stunning impact on any space. Even after flowering is dead, drying the flowers can provide aesthetically pleasing results. Flowers are known to refresh the space and keep feelings of happiness and positive mood for a long time. Adding flowers to your work or home space can increase productivity, clear your mind and promote a healthier and happier environment. They can be used as accents, adding color to the interior or exterior and visually inspiring creative minds.
Since flowers are usually used to convey certain emotions, they are especially conducive to intimate relationships. Anyone who has ever received flowers can agree that there is something special about receiving it. The secret of the perfect gift is always in the details and when giving flowers this is no exception. Intimate relationships encourage the giver to recall details about a person's character and favorite things. It can really show the attention and care.
Giving flowers is always easy! Although flowers can be very personal in terms of color, look and arrangement, they are an easy gift to send when you are not quite sure what exactly to give. If you are not familiar with a person's likes, but want to greet or say Thanks, you can always send flowers. Just be sure to do a little research before avoiding sending a bloom that may give the wrong impression.
Flowers are sensual in nature, as they appeal to two senses simultaneously - sight and smell. Apart from the fact that colors have a great influence on our mood and emotions. Pastel colors create an atmosphere of comfort and safety, while strong colors such as red, orange and magenta generate passion in emotions. In the same way, it is known that different aromas have different effects on the mental state. For example, the scent of lavender has a calming effect on the mind, and the scent of a rose stimulates passion. It is known that the scent of jasmine energizes and invigorates, and the combination of floral scent definitely makes a people happy and joyful.
Don't forget about men
The vast majority of flower deliveries are sent to female recipients to express various emotions such as love, friendship and gratitude or to celebrate achievement. But how do we express these same emotions to men in our lives? The answer is: Flowers again! A study by the Florists' Association found that more than 60 percent of men surveyed would be happy to receive flowers as a gift. It's time to change the stereotypes when giving flowers! All people deserve the opportunity to enjoy receiving gifts of flowers and the intentions behind them. Let's not forget the strict gender stereotypes that reveal people's identities and link their dignity to an outdated hierarchy that serves no one. 😉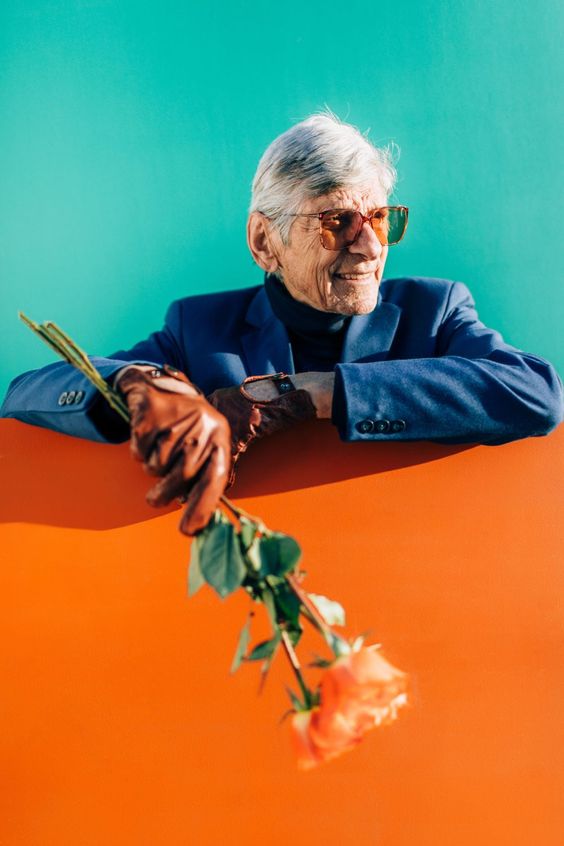 Today, online flower delivery in Bulgaria has become very effective, as you can customize the bouquet of flowers and plan its delivery on a specific date and time. Like this you can be sure that you will not miss an important occasion to make your loved ones happy. This is the esiest way to convey greetings and mood, or surprise someone, especially from a distance.
Over the years, history has seen extremely intelligent, powerful, and inspiring women who pioneered women's rights and racial equality and contributed greatly to the worlds of science, math, aviation, and literature, paving the way for adversity. Whether these famous women were inventors, scientists, leaders, politicians, or queens, these powerful women have undoubtedly left their mark on the world we know today. Women on this list are remembered for being rule-breakers and pioneers who show their male peers what it means to be a role model. Without each of their contributions, our world would not be what it is today. In honor of Women's Month, we will look at these ferocious, empowering, and inspiring ladies.
Marie Curie / 1867-1934 /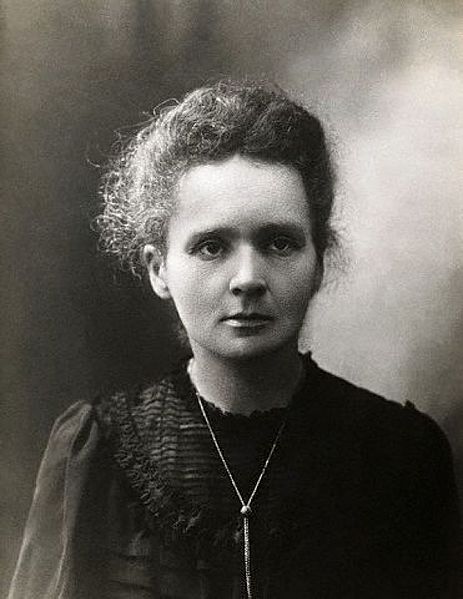 Born in Poland, Marie Curie was a pioneering physicist and scientist, who coined the term radioactivity, discovered two new elements (radium and polonium), and developed a portable x-ray machine. Marie Curie was the first and only person to win two separate Nobel Prizes, one for physics and one for chemistry. Although science and physics have been dominated by male fields, clashes and near-constant difficulties and discrimination throughout her career, Marie Curie's research remains relevant and has influenced the world of science to this day.
Amelia Earhart / 1897-939 /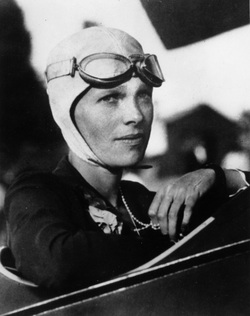 Amelia Earhart was the definition of a real rule breaker. An American aviator who became the first woman to fly solo across the Atlantic and the first person ever to fly solo from Hawaii to the US, Amelia was a pioneering aviator and a true female trailblazer. She set many aviation records, but her attempt to be the first person to circumnavigate the globe led to her disappearance and presumed death. In July 1937. Earhart disappears somewhere over the Pacific Ocean. The wreckage of her plane was never found. To this day, its disappearance remains one of the greatest unsolved mysteries of the twentieth century.
Ada Lovelace / 1815-1852 /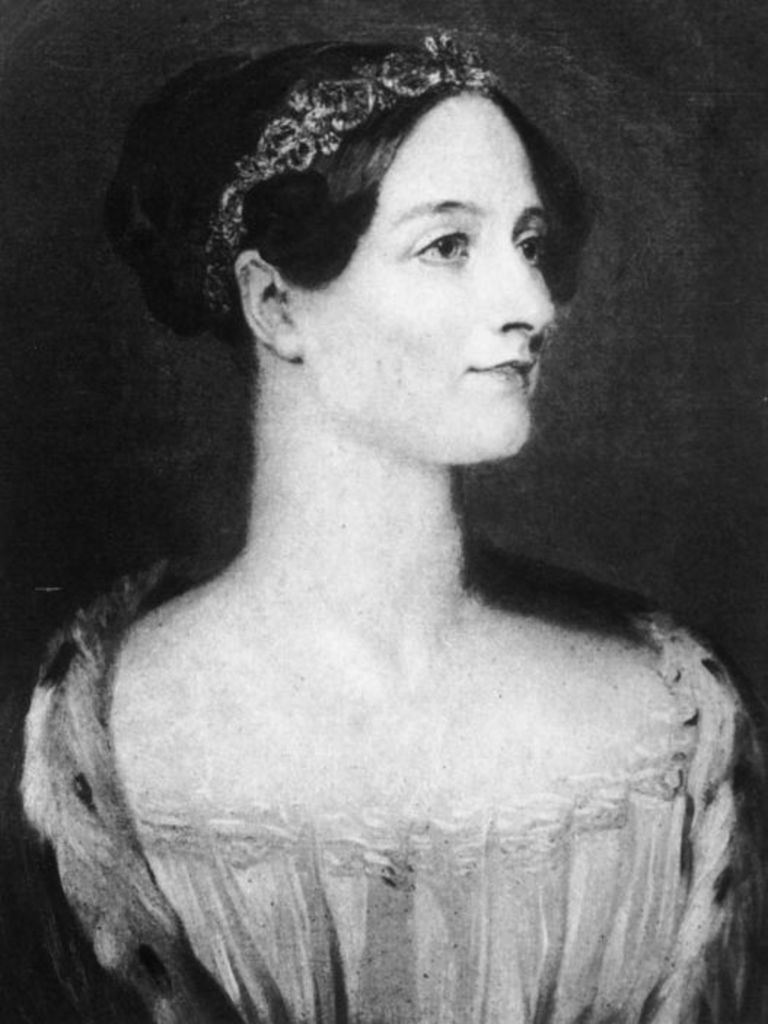 Ada Lovelace was an English mathematician and the world's first computer programmer. Ada was a charming woman in society who is known to be the first person to ever publish a computer algorithm, and her genius is years ahead of her time. Known for her translation of the scientific paper Elements of Charles Babbage's Analytical Machine as a Computer-Like Machine, Ada is considered the first programmer in history to write an algorithm for finding Bernoulli numbers in such a form that it can be read by the machine.
Susan B. Anthony / 1820-1906 /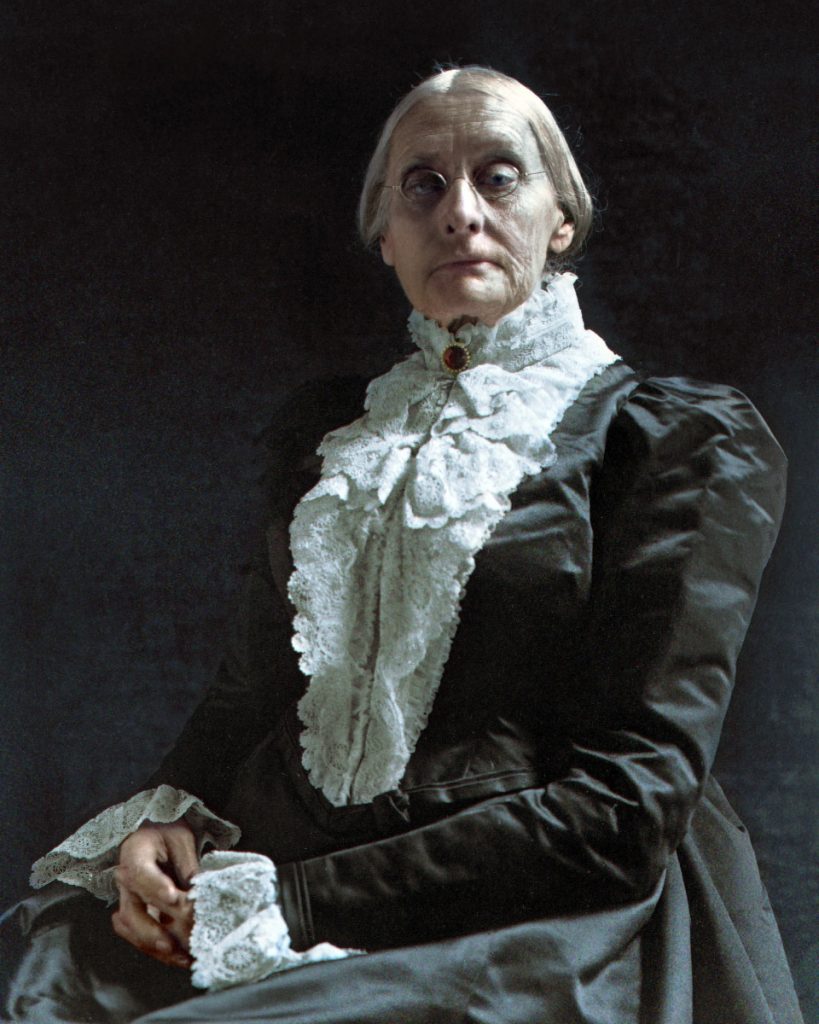 Susan B. Anthony was raised in a Quaker family with deep roots in activism and social justice, which inspired her to advocate for women's suffrage, women's property rights, and the abolition of slavery. In 1872, to challenge suffrage, Anthony tried to vote in the 1872 presidential election and was arrested. Although it was never able to vote legally, the 19th Amendment, ratified in 1920, was called the Susan B. Anthony Amendment. * The Nineteenth Amendment to the US Constitution guarantees the right to vote.
Sojourner Truth / 1797 – 1883 /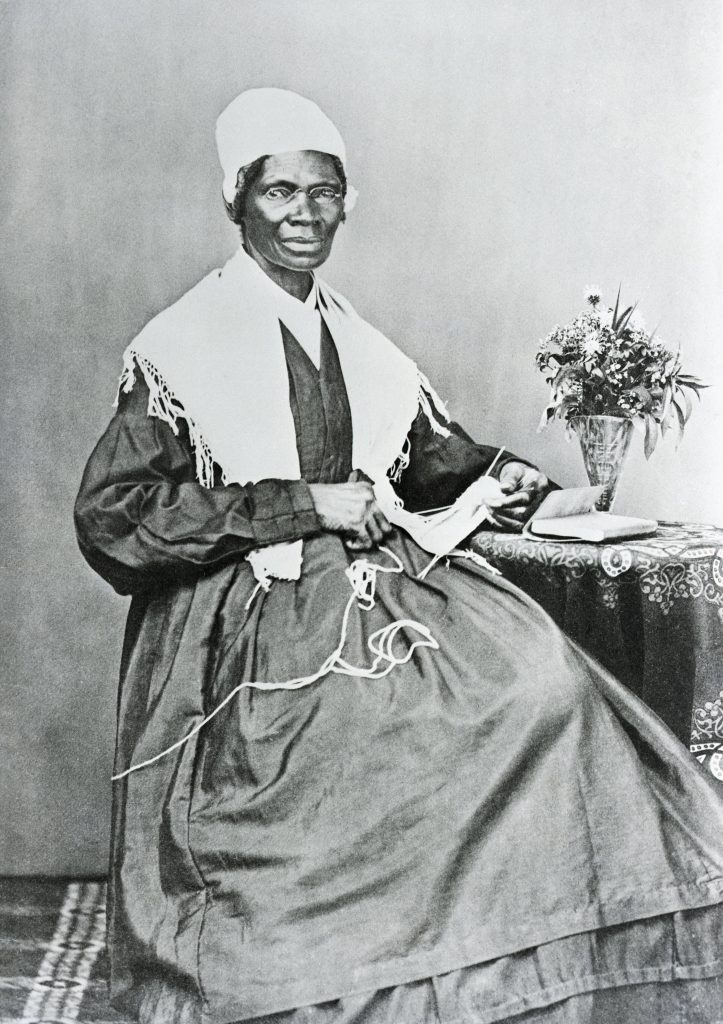 One of the most inspiring black women in history. An African-American, abolitionist, and women's rights activist, Truth gave a speech at the Ohio Convention on Women's Rights in Akron, 1851, which became known as "Am I Not a Woman?" Separated from her family at the age of nine and later auctioned off as a slave, Truth fled her enslavers in 1829. She later advocated for women's and African-American rights and became known for her passionate speeches on women's rights prison reform, and universal suffrage. She became one of the most important leaders of abolitionism and one of the earliest defenders of women's rights.
Catherine the Great / 1729 - 1796/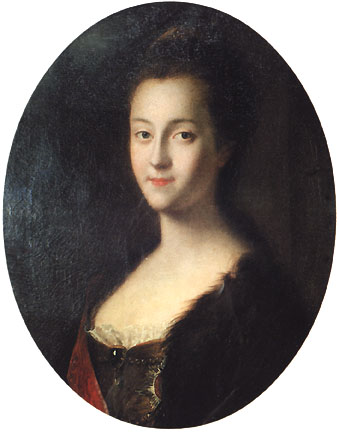 Catherine the Great is one of the world's great historical figures. Stuck in a loveless marriage to the King of Russia, Catherine orchestrated a coup to overthrow her wildly unpopular husband Peter III and then named herself Empress of the Russian Empire in 1762. Catherine the Great has all the credit for the modernization of Russia and created the first state-funded school for girls, strengthened the strength of the church in the country, and promoted the development of the economy, trade, and the arts.
Rosalind Franklin / 1920 - 1958 /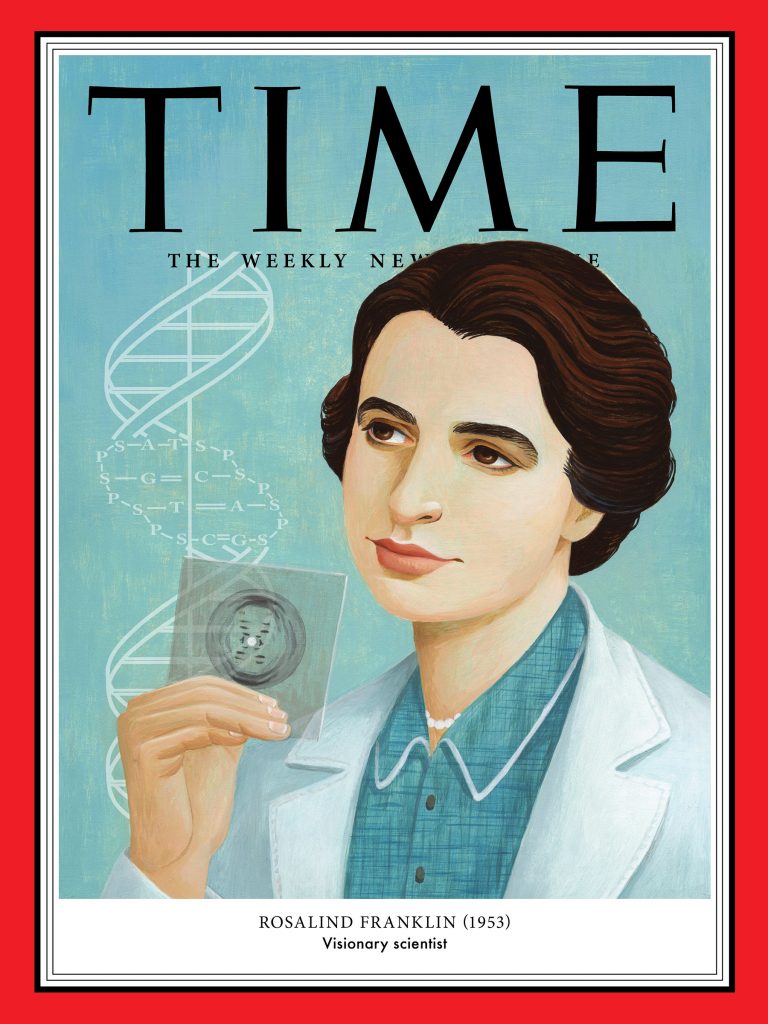 Born in 1920 in London, Rosalind Franklin was a biophysicist who has made important contributions to determining and understanding the structure of DNA, viruses, coal, and graphite. Like many women scientists, Franklin has been deprived of recognition throughout her career. The image of the DNA molecule of Franklin is key to deciphering its structure, but after his death, other men received the Nobel Prize in Physiology.
Chen Shiung Wu / 1912-1997 /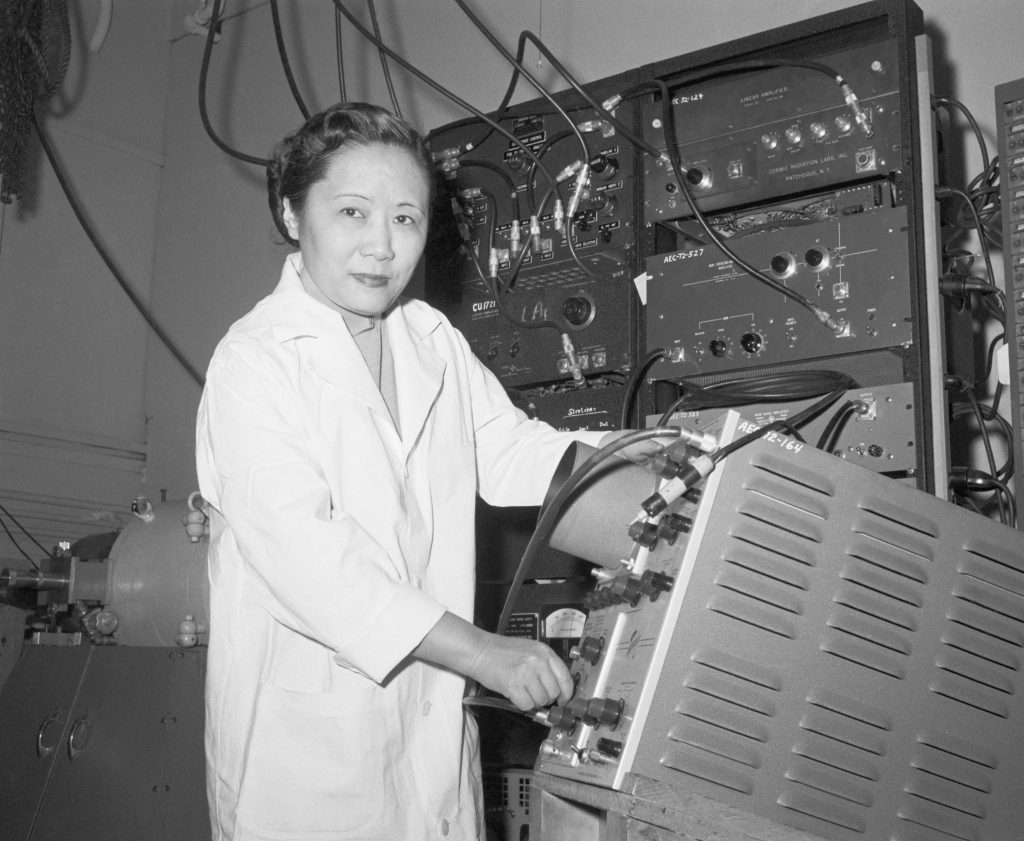 Born in Liu Ho, China in 1912, Chien-Shiung Wu was appointed to Columbia University as part of the Manhattan Project. Working as a senior scientist on the atomic bomb in 1943, she conducted research to detect radiation and uranium enrichment. In the mid-1950s, two theoretical physicists, Chung-Dao Lee and Chen Ning Yang called Chien-Shiung. They wanted help to overturn the law on maintaining parity. Using the chemical isotope cobalt-60, they showed that the laws of nature are not always symmetrical, refuting a law that has been passed for more than 30 years. Despite her key contribution to the discovery, only Young and Lee received the Nobel Prize in 1957.
Effa Manley / 1897-1981 /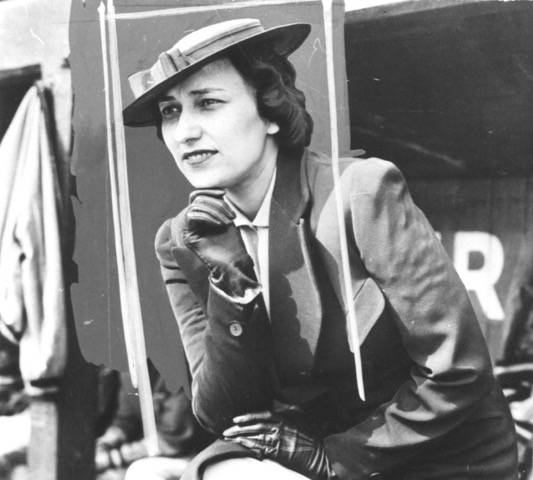 At a time when the sport is made up mostly of white male owners and athletes, Effa Manley refuses to join gender and racial stereotypes. She went down in history as the sports executive and co-owner of the Newark Eagles baseball team. Her team won the 1946 Negro League World Series. Effa Manley quickly became a uniquely powerful influence in the growth and strengthening of the league, as well as in the growth and strengthening of the black community in Newark and Haarlem. She is a prominent member of the NAACP, boycotting companies in Haarlem that do not hire black employees while caring for her Eagles players, helping them in every aspect of finding off-season work to paying down payments in their homes.
Margaret Hamilton / 1936 - /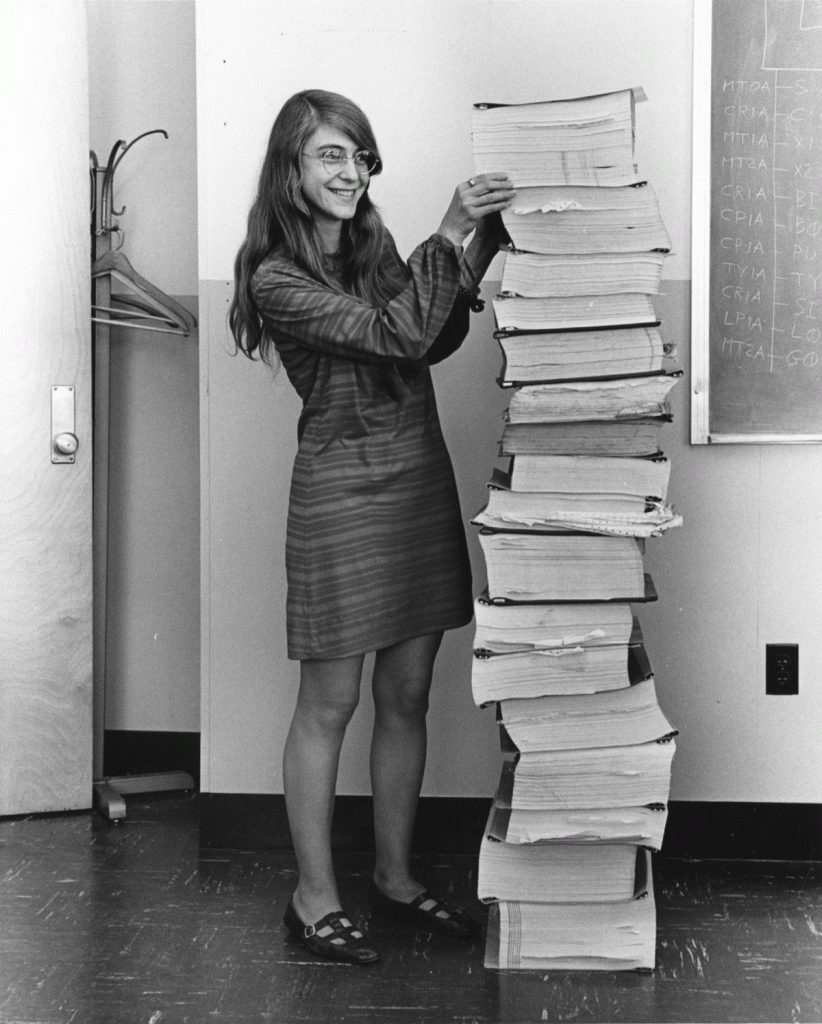 MIT's software engineering department is headed by Margaret Hamilton. She is also responsible for writing the Apollo Guide software for the Apollo space program from scratch. The software, which allows the computer to recognize error messages and ignore priority tasks, continues to monitor astronauts Niall Armstrong and Buzz Aldrin over the crater, the dusty crust of the moon until they land. Hamilton's work is not widely known to people outside the scientific community, but it is proof that behind the achievements of every great man is the work of a great woman.
Malala Yousafzai / 1997 - /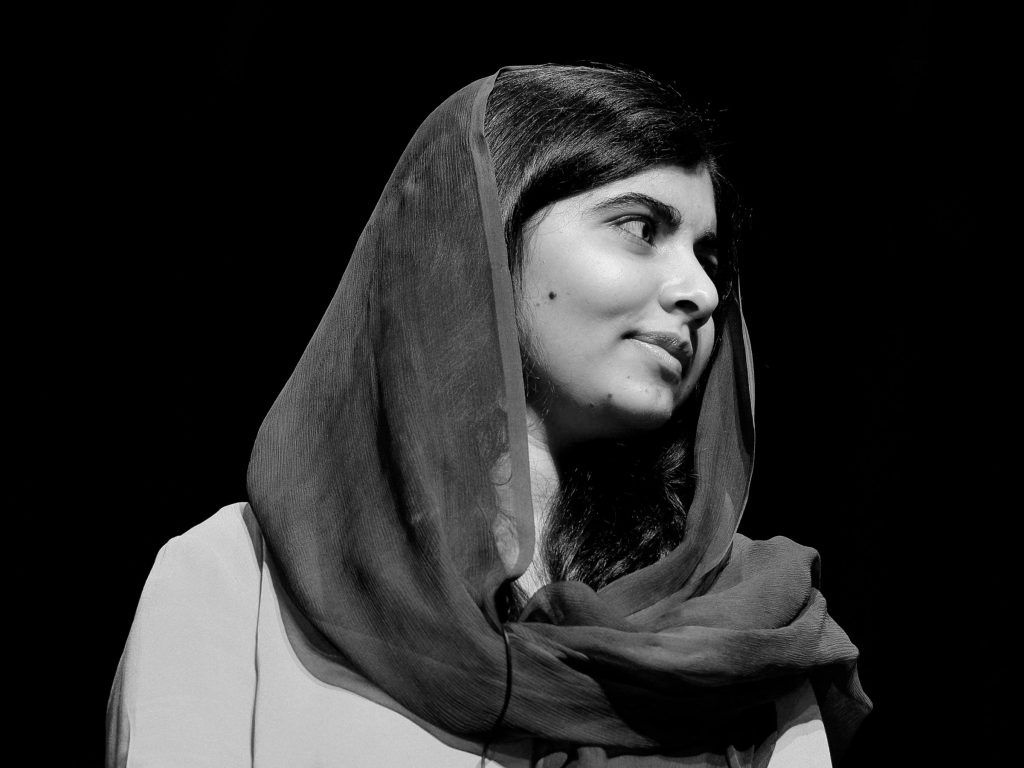 Malala Yousafzai was born in Pakistan on July 12, 1997. Her father is a teacher and runs a girls' school in her village when the Taliban took over her town. They ban all girls from going to school. In 2012, at the age of 15, Malala spoke publicly about women's rights, and as a result, a gunman boarded her school bus and shot the young activist in the head. Malala survived, and the assassination caused a stir in the country and abroad. Malala Yousafzai moved to the United Kingdom, where she became a fierce presence on the world stage, and at the age of 17 became the youngest Nobel Peace Prize winner. Today, she is defending her cause even more boldly, despite ongoing threats. Her voice is heard both in world forums and in student auditoriums, as well as in the refugee camps she visits.
Katie Bouman / 1989 - /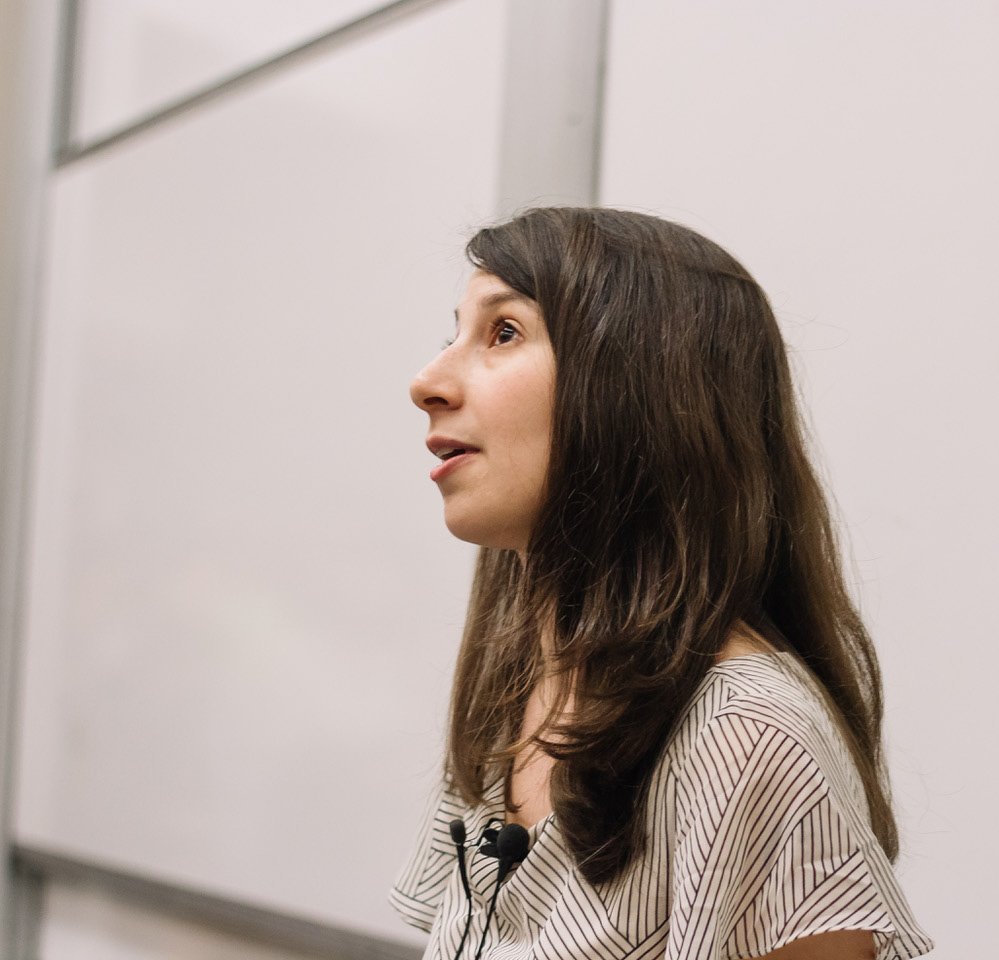 Katherine Louise Bouman is an American computer scientist working in the field of imaging. A 29-year-old woman, a computer scientist who has won a standing ovation around the world for her help in developing an algorithm that took the first-ever image of a black hole in the universe.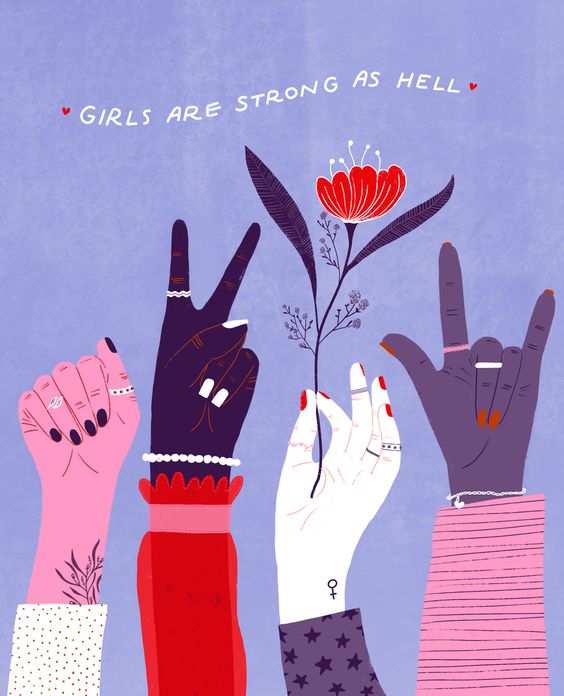 The list of women changing the world doesn`t end here. It may be endless, but we leave it to you to find out which great women are missing from this list and how they have contributed to the world we know today. HAPPY INTERNATIONAL WOMAN'S DAY, DEAR LADIES! Be inspired!
Exquisite still lifes and beautiful plants on canvases: Flowers not only beautify the appearance but also reveal secret meanings and convey messages to the audience. Browsing the fascinating herbarium, in this topic we look at the mysterious picture with symbols of flowers.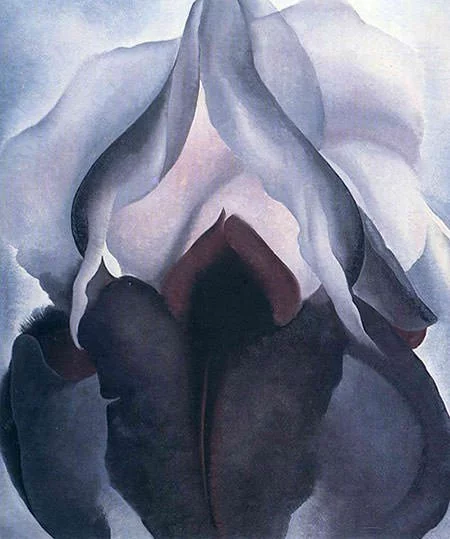 Throughout the history of art, certain subjects have resonated particularly strongly with artists and audiences alike. The trends reveal the most popular muses of art, with flowers in the foreground. Rooted in ancient art and still prevalent today, depictions of blossoms, blooms, and other botanical elements can be found in many of the most significant art movements, whether carved into clay or starring in a still-life.  Here we will trace the history of the flower in art, exploring its evolution and trends that have attracted artists for centuries.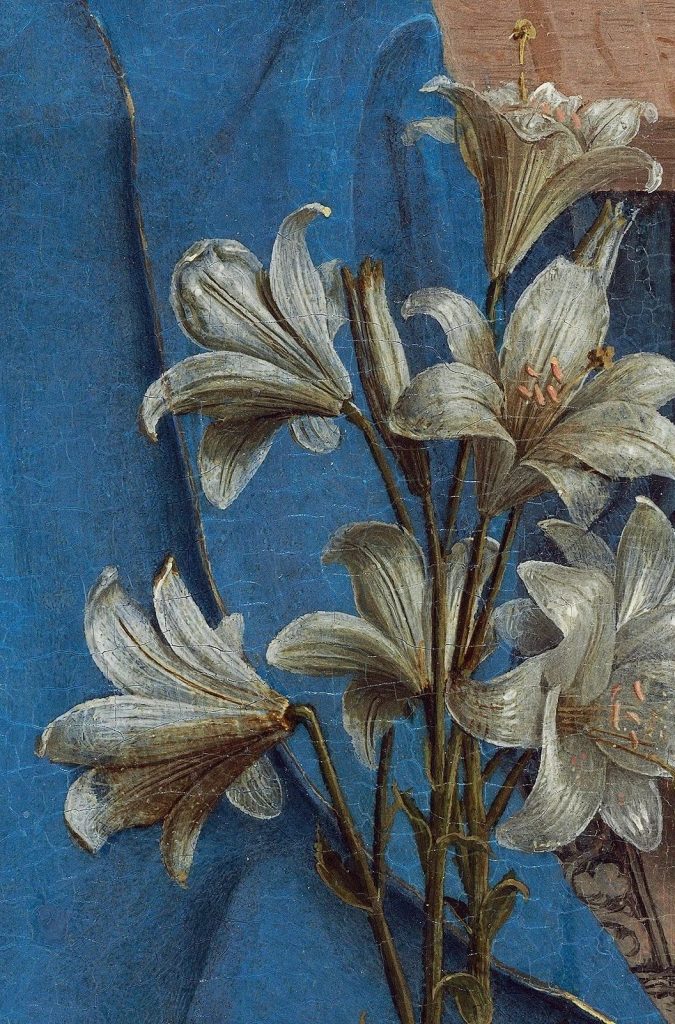 One of the most popular subjects of Christian art, the Annunciation captures the moment when the angel Gabriel tells the Virgin Mary that she will conceive a son of God. If you take a closer look, you will find that these scenes almost always feature white lilies. Sometimes called Madonna lilies, these blooms represent the chastity and purity of the Virgin, with their golden anthers signifying God's heavenly light. Their use marked a sharp turn in the symbolism of the flower, which had once been most closely associated with the fertility and eroticism of the Greek goddess Hera. On the other hand, Christian artists often decorate scenes of the Madonna with the infant with red carnations, which signifies the Virgin's love for Christ and as a harbinger of his crucifixion. Red roses also symbolized Christ's sacrifice, with each of their five petals representing one of Christ's wounds from the cross. While these red flowers stood for mortality in Christian art, they carried meanings of earthly love and devotion in wedding portraits of the same period.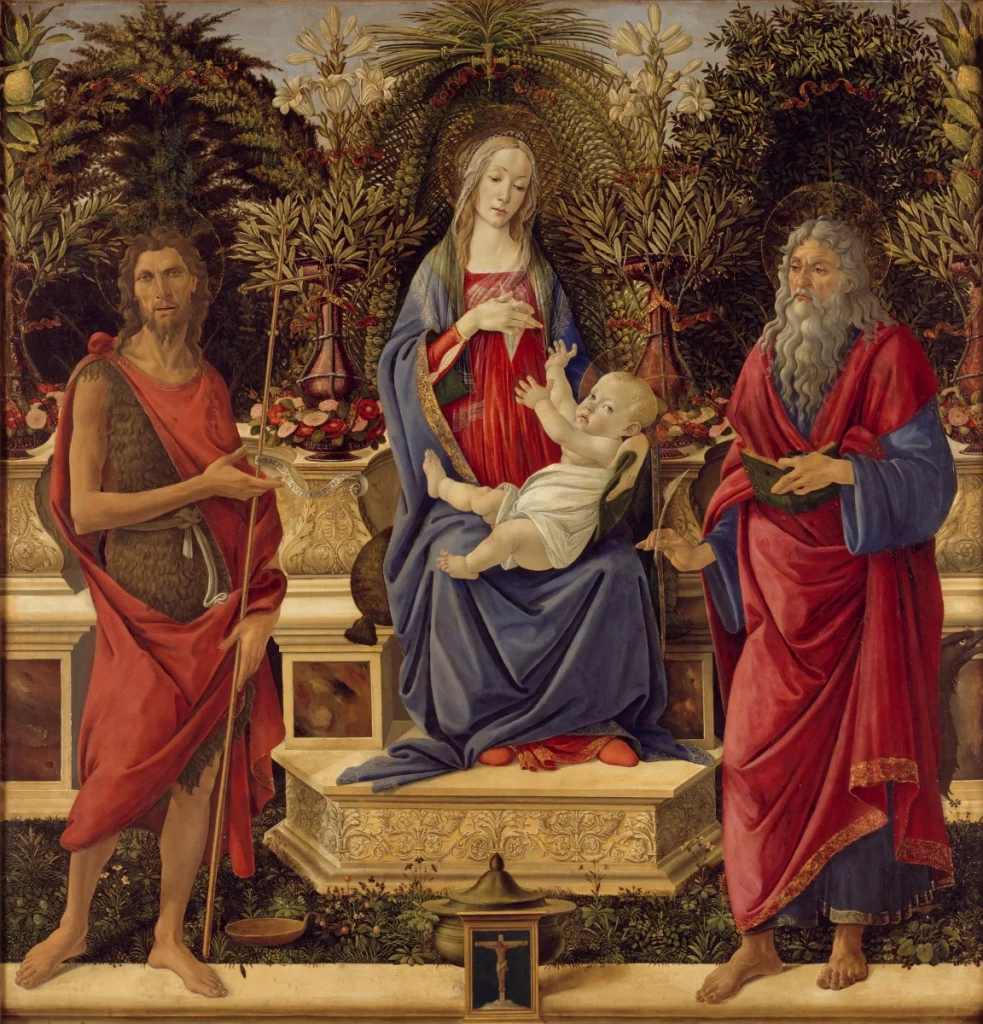 Floral motifs were also prominent in the decorative art of the Middle Ages. During this period, tapestries and other large-scale textile arts gained popularity, appearing in castles and churches throughout Europe. In many of these works, the subjecт, often a group of figures, is placed against a backdrop embellished with repeating floral patterns. These pieces are known as Millefleur tapestries /mille-fleurs/.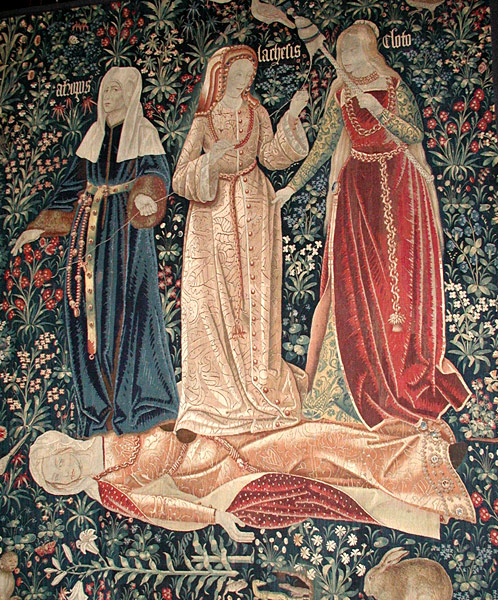 During the Italian Renaissance, artists were inspired by millefleur tapestries and often incorporated floral designs into their large-scale mythological paintings. In Primavera by Botticelli, the goddess of Spring is shown sprinkling flowers on the blossom-covered forest floor, which make up most of the 190 blooms featured in the painting.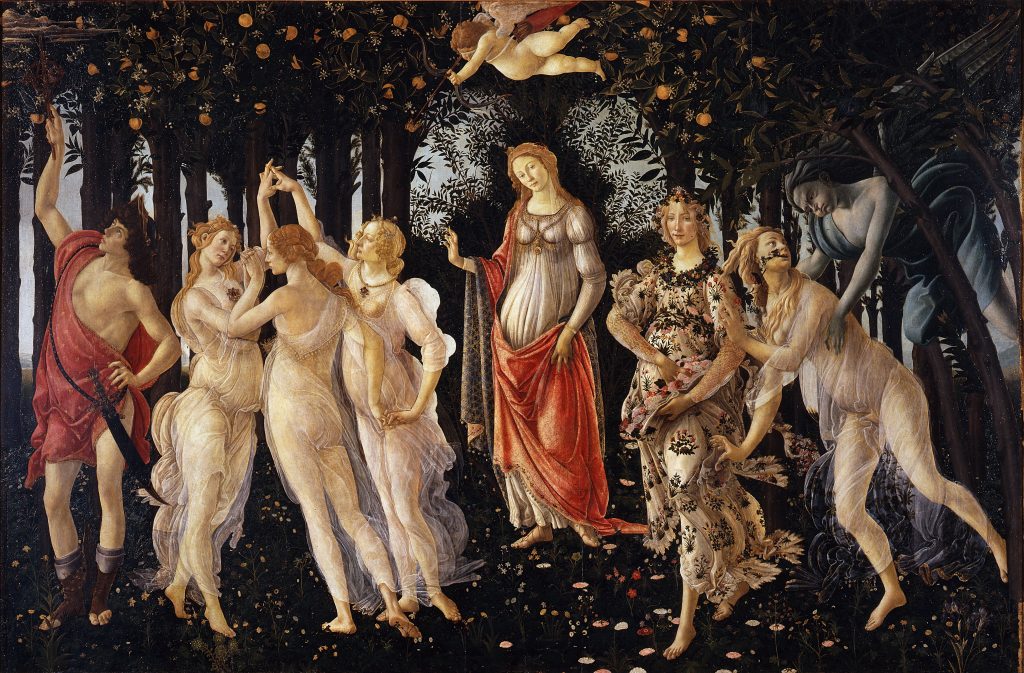 At that time, many Renaissance artists in northern Europe specialized in still life painting. Often these images include floral arrangements that, according to the Metropolitan Museum, "usually combine flowers from different countries and even different continents in one vase and at a time of flowering," illustrating the importance and distribution of botanical books and other floral studies during the Northern Renaissance.
Wilting flowers to capture the fleeting nature of human life
Still life has flourished in the Netherlands since the 17th century, at a time when world trade had cultivated a desire for exotic personal belongings, such as glass cups and tulip bulbs. Among these treasures, Dutch artists create moralizing still lifes that remind viewers of the fleeting nature of material wealth. These works of art often called memento mori ("memories of mortality") or vanitas ("emptiness"), represent skulls signifying death, hourglasses that show the passage of time, and withering flowers that symbolize the ephemeral. Meanwhile, the Dutch are also painting bouquets of fresh flowers to highlight the power of the Netherlands and the glory of nature.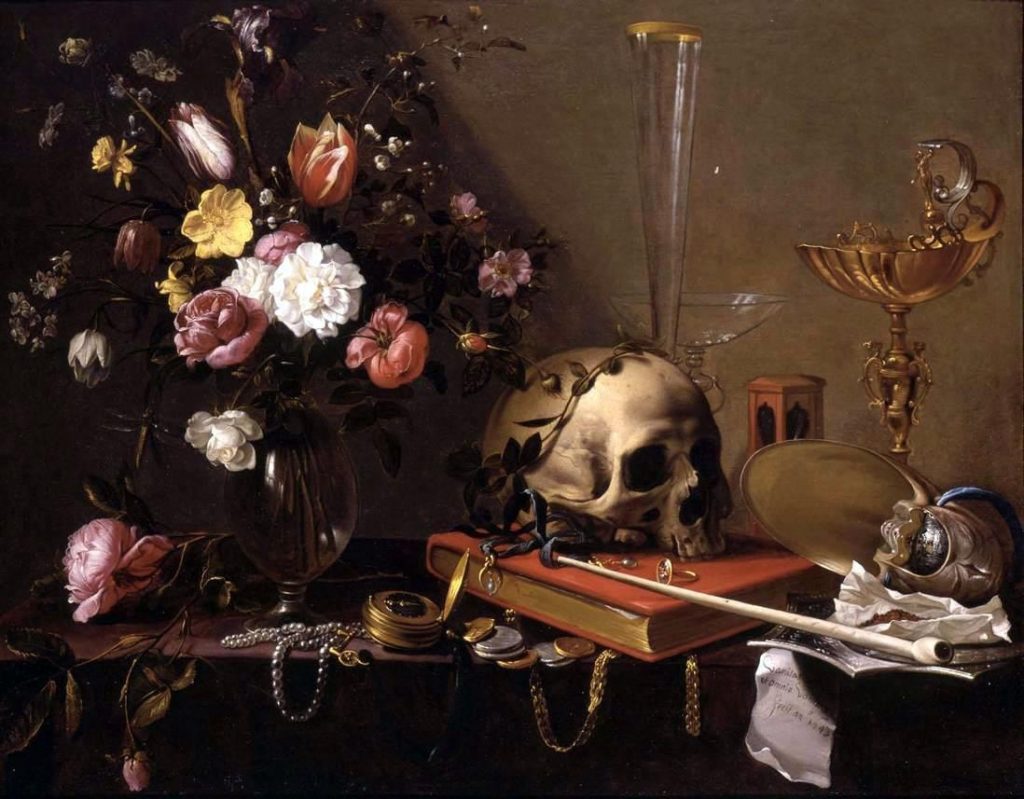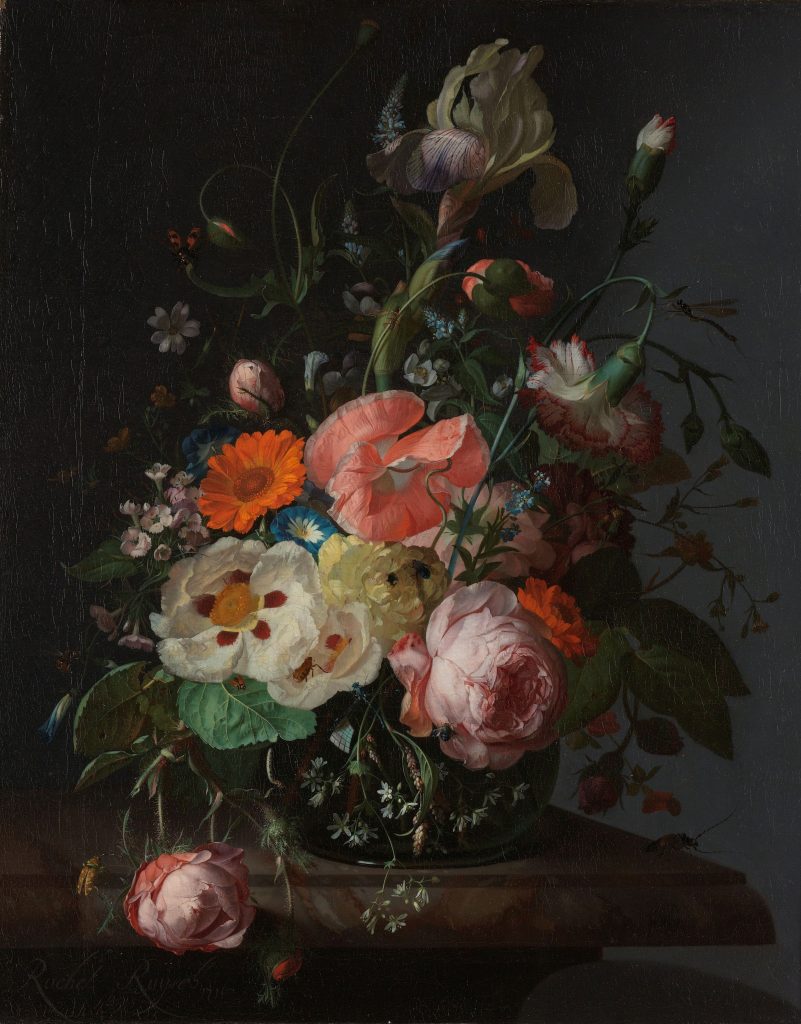 The secret messages of flowers in the Victorian era
Under the reign of Queen Victoria, new standards of etiquette limited communication across England's upper class, so many began sending secret messages by way of flowers. In turn, books about floriography /the language of flowers/ became popular, outlining the types of flowers that signaled flirtation, friendship, embarrassment, or disdain. For example, you might find that red roses indicated love, darker roses suggested shame, and pink roses sent the message that your love should be kept a secret. In this period of floral fever, British artists filled their paintings with hidden botanical symbolism. For example, in The Roses of Heliogabalus (1888), Sir Lawrence Alma-Tadema depicts the tragic story of Emperor Heliogabalus watching his guests suffocate in a rain of rose petals.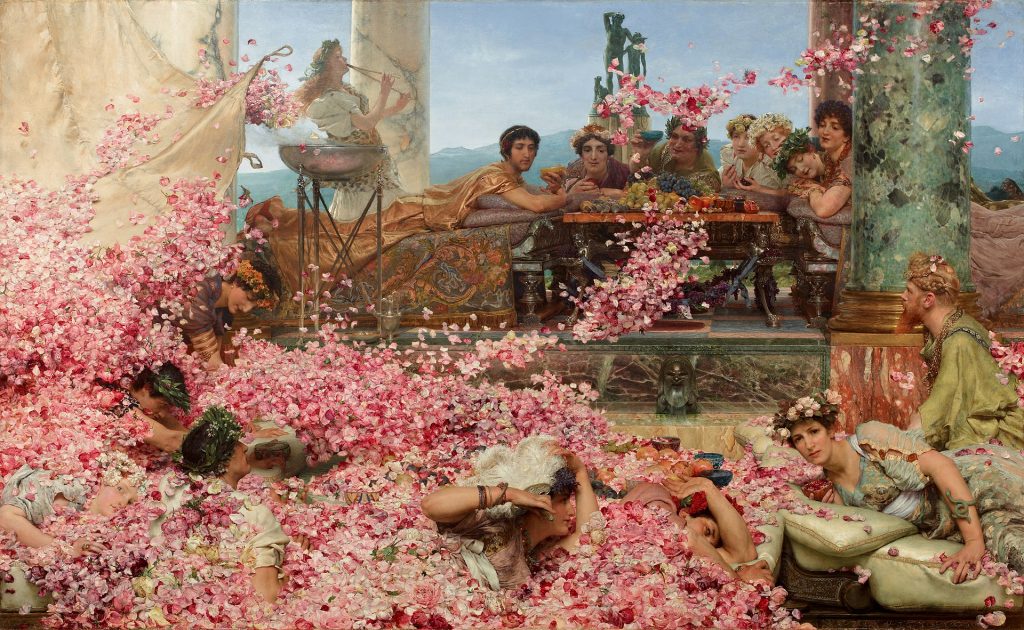 Meanwhile, designer William Morris brings the Victorian charm of flowers into the home, creating colorful wallpaper with patterns of poppies, vines, chrysanthemums, and sunflowers.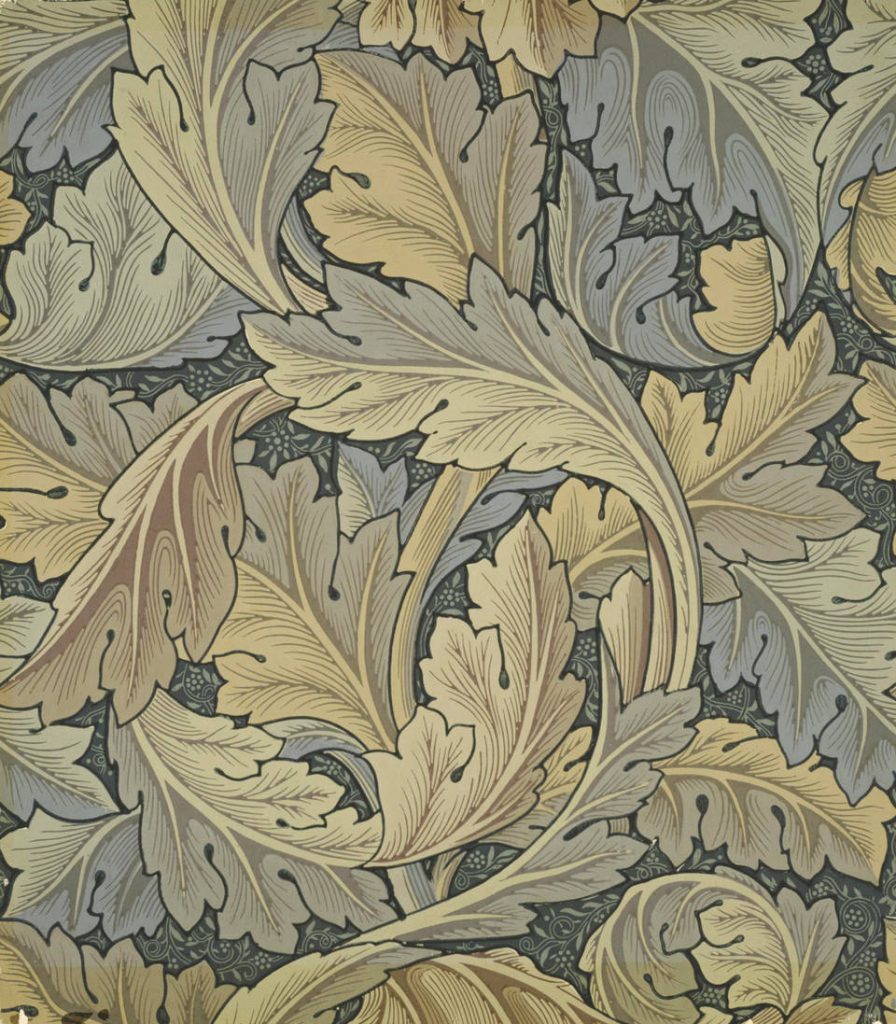 Symbolism was actively used in art until the second half of the 19th century. You can see a "talking herbarium" on a canvas by Orest Kiprenski. "Poor Lisa" holding a delicate red flower with her delicate fingers. She tells us about her love and destiny.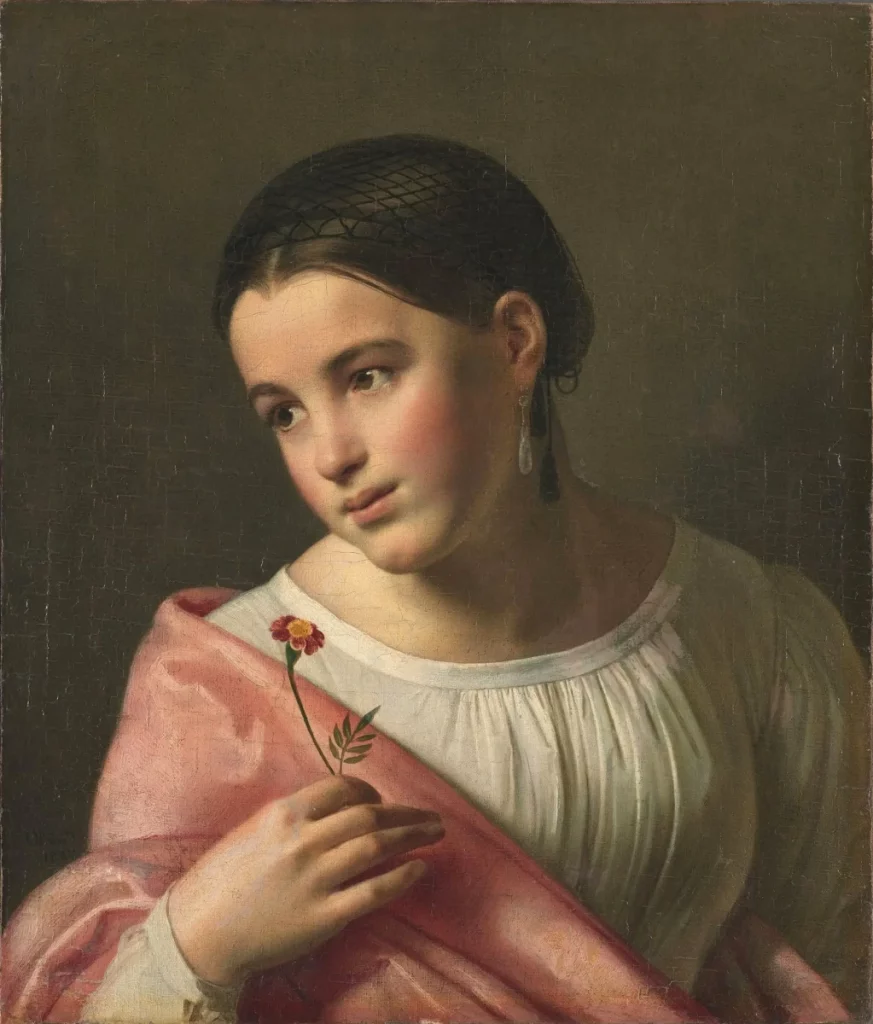 Against the background of the portrait of Ekaterina Avdulina we clearly see a clear flower standing alone in a glass of water. Its white color is a symbol of moral purity, but at the same time, it symbolizes death. Its petals are falling apart. This is an allusion to the transience of youth and beauty.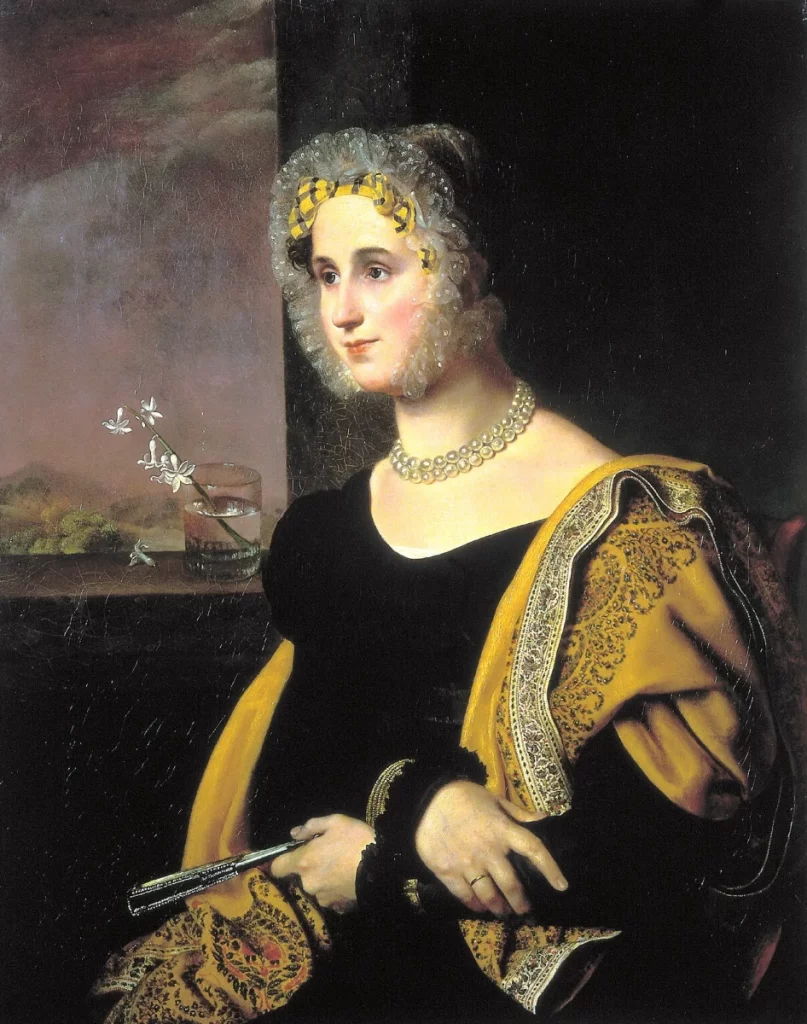 The meaning of the primrose varies depending on its color. In a painting by Edwin Long, yellow primroses act as a symbol of youth and love.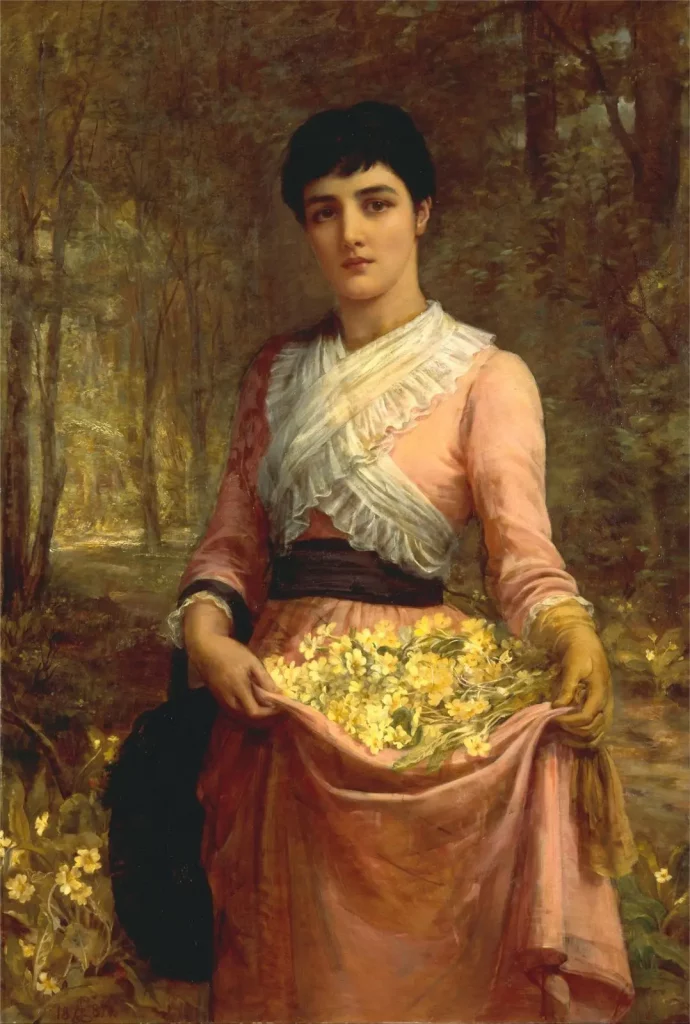 "One moment, one aspect of nature contains everything," says Claude Monet, referring to his late masterpieces, the water landscapes he created at his home in Giverny between 1897 and his death in 1926. Focusing solely on the surface of the lake, with its pile of vegetation floating in the reflection of the sky and trees, Monet creates the image of a horizontal surface on a vertical canvas.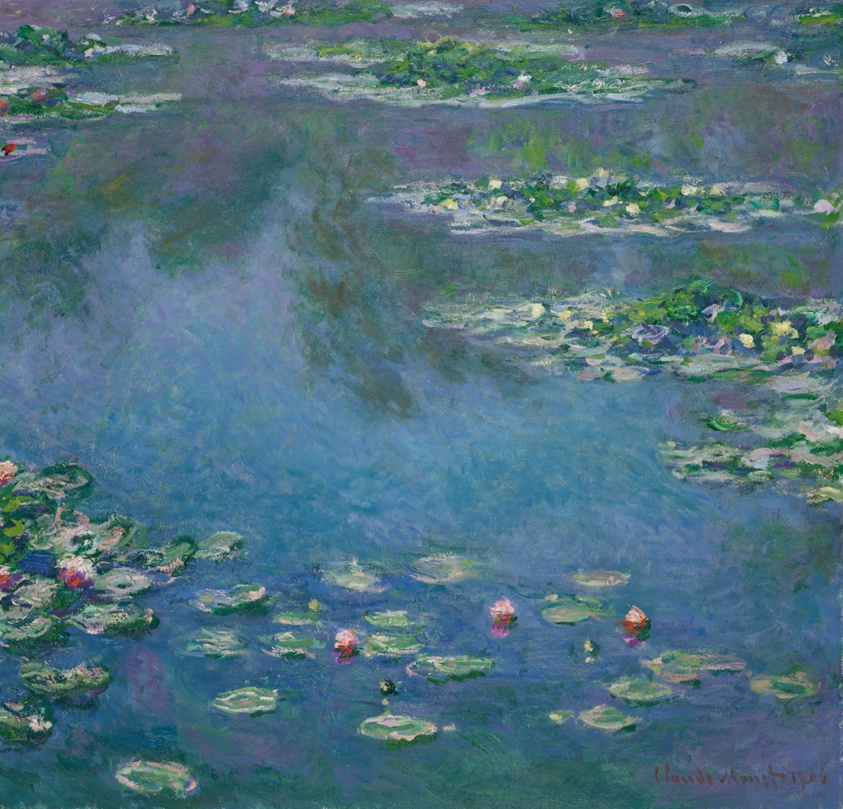 The painting "Ophelia" by John Mile is widely known for its detailed depiction of the vegetation of the river and the plants along its banks. When painting the doomed Shakespearean Ophelia in a lavish scene of death, the artist showed all the flowers with botanical precision, following the text word for word. Each plant is coded with a certain meaning. Buttercups signify ingratitude, weeping willow bent over a girl is a sign of rejected love, nettle is pain, daisy flowers around her right hand symbolize innocence. Roses traditionally speak of love and beauty, and a necklace of violets means modesty and loyalty. Adonis, very similar to a red poppy, swims around the girl's right arm and symbolizes grief.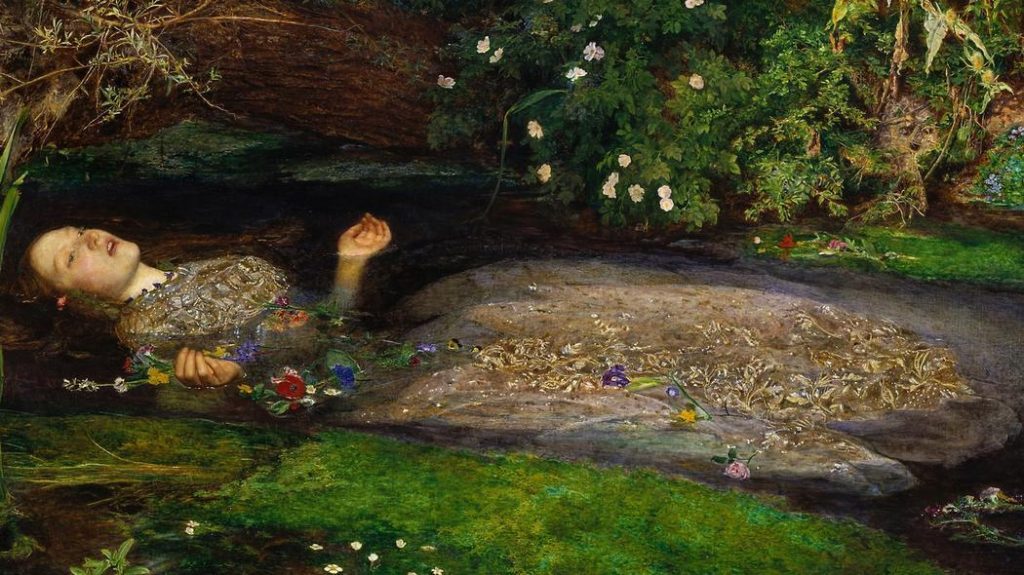 Until the 19th century, floral artists existed somewhere at the bottom of the painting hierarchy. AWith grand history paintings regarded as the most prestigious of all art genres, landscapes and still lifes were viewed as lesser subjects. These distinctions dissipated with the French Realists and Impressionists, who embraced everyday scenes and objects as subjects worthy of art. The French painter Edouard Manet is a leader in this effort and dedicates a remarkable fifth of his artistic work to still lifes. In 1880, towards the end of his life, Manet focused especially on flowers. He created a series of 16 small canvases depicting bouquets his friends had given him on his sickbed and even decorated his personal letters with watercolors of roses and irises.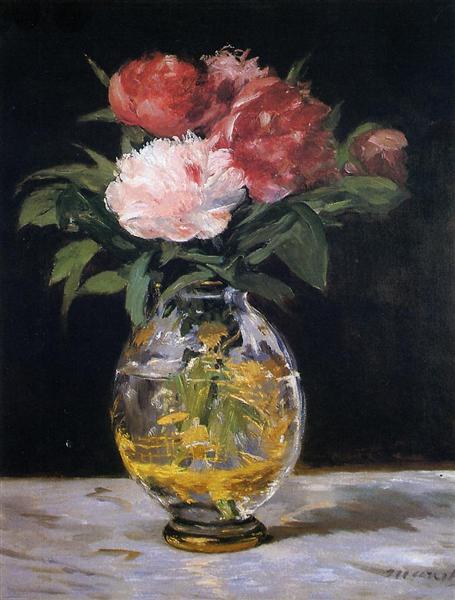 Like Manet, many Impressionists and Post-Impressionists painted flowers that were personally significant to them. Vincent van Gogh first began painting sunflowers in the summer of 1886 but returned to the subject two years later after inviting French artist Paul Gauguin to stay with him at his yellow house in Arles. Van Gogh created a series of bright yellow sunflower paintings to decorate Gauguin's bedroom, which could be a welcome gesture or a racing trick to showcase his artistic talents. Although originally made for Gauguin, Van Gogh later adopted the sunflower as his personal artistic signature, telling his brother Theo in a letter from 1889 that "the sunflower is mine."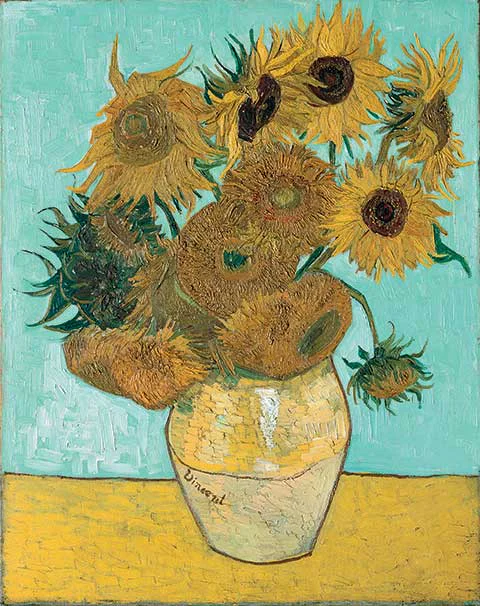 Flowers, given the idea of growth and fertility inherent in nature, have been associated with female sexuality since ancient times. Tamara de Lempicka considered Zantedeschia to be the most feminine and erotic flower and constantly included it in her still lifes.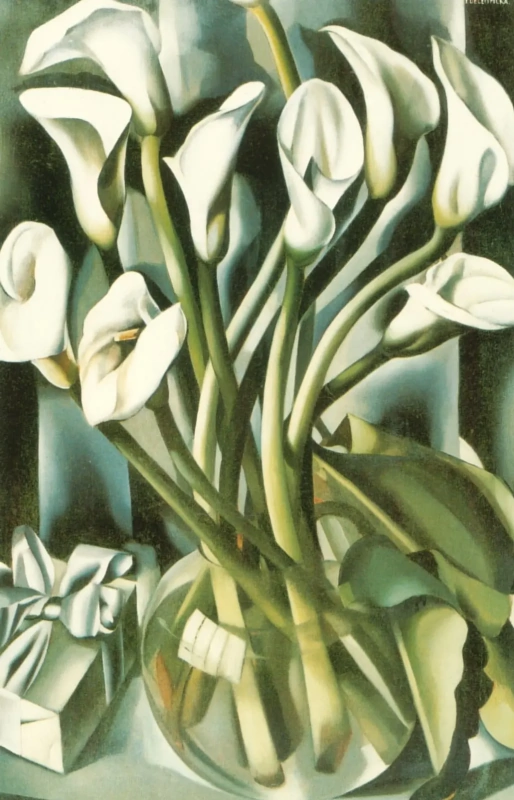 Critics almost unanimously cite erotic allusions in Georgia O'Keefe's paintings. In 1919, photographer and art dealer Alfred Stiglitz, who later became O'Keefe's husband, first put forward the idea that these floral paintings were in fact images of intimate parts. He sees O'Keefe's work as a manifestation of "eternal femininity." However, Georgia O'Keefe has always argued that her floral paintings have nothing to do with the female body or sexuality, but have been closely related to plant life forms. The lush, symbolic flower paintings of Georgia O'Keefe and the American Southwest are some of the most recognizable works of the 20th century. Often considered the mother of modernism, O'Keefe turns the picture of still life into a radical event. Her close-up views of flowers border on abstraction and challenges viewers to slow down and enjoy the process of careful observation.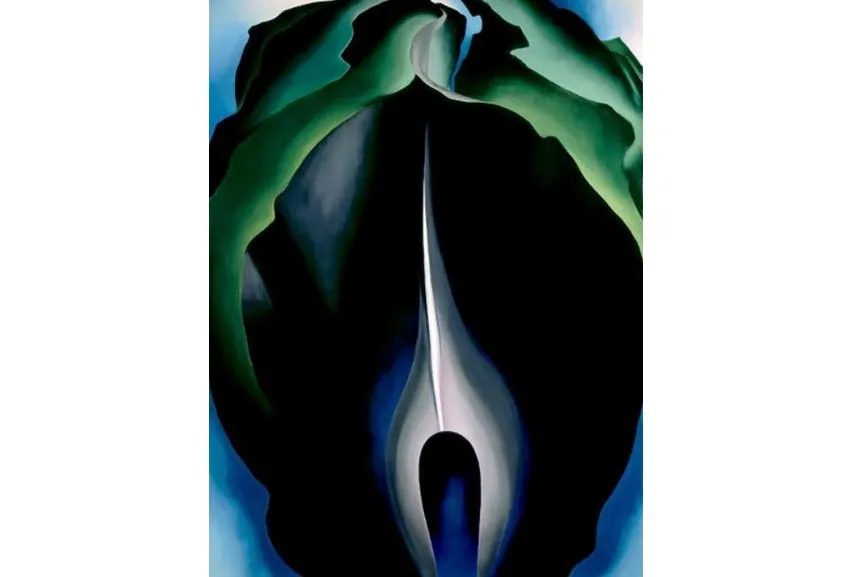 The interior design includes a wide range of flowers in its highlights. From peonies to extravagant oriental orchids, the flowers are there to be enjoyed and admired by both the hosts and the guests of each home. But what are the benefits of having flowers in your home and why are they considered so important? Read to find out the charming importance and power of flowers in interior design.
Why it is important to have fresh flowers in your home
Nice fragrance Undoubtedly, fragrant seasonal flowers give home hospitality. A vase of fragrant roses or freesias placed in the lobby does a great job for this purpose. It is important to choose a soft and delicate, fragrant flower to avoid overloading the senses.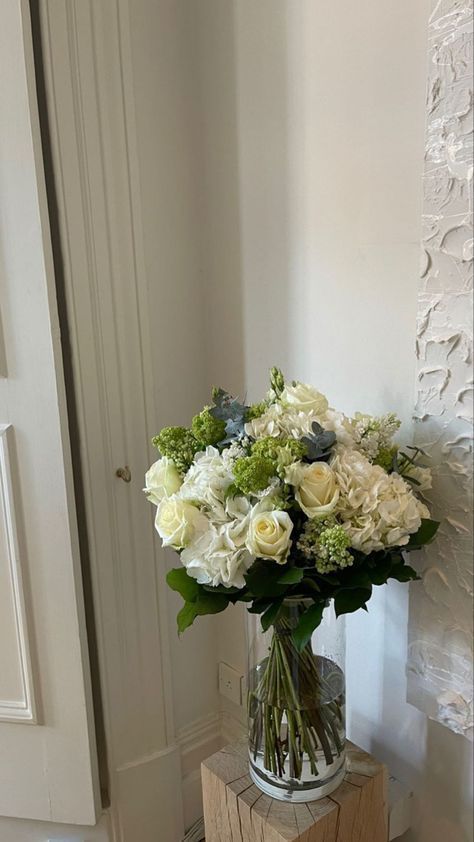 Visual delight and liveliness There is no doubt that flowers play an integral role in exquisite interior design. Flowers make a visual statement, give charm to the space. They help to create an environment full of color and vitality, especially flowers with vibrant colors such as pink, red, blue, or yellow, which add a special touch to the interior. To add pigment to your home, you can choose lilies, roses, or even hydrangeas as an accent in any corner of your home.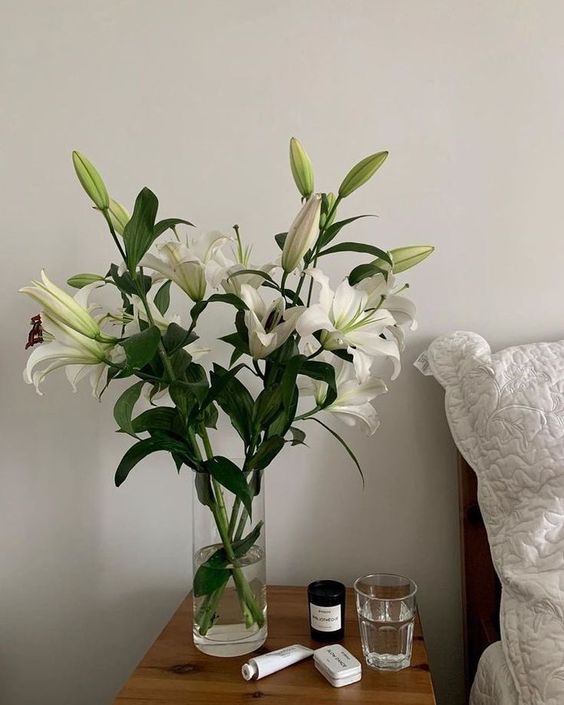 Good mood In addition to being aesthetically pleasing, flowers can affect your mood, health, and well-being. That's why we at Top-Flowers love to see beautiful blooms in all homes. Various studies have shown that the color of flowers has a powerful nerve-calming effect on people, reducing the risk of suffering from stress. They further enhance the feeling of satisfaction and have been shown to promote positivity and productivity.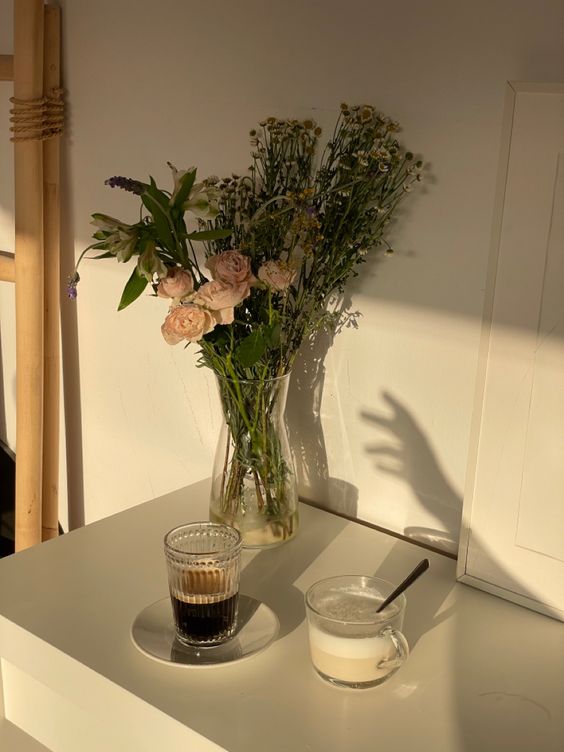 Creating natural spaces Flowers are essential for creating a fresh, natural environment, especially in apartments in the city center. Flowers improve the aroma in the room, but did you know that some flowering plants can also filter and clean the air? According to studies, Peace lilies, Gerberas, Bromeliads,  and many other plants can help remove harmful toxins from the air and can even improve night rest as they release large amounts of oxygen. So they not only look nice but actually refresh the air! In addition, the flowers that people often choose (roses, for example) also help to improve the mood and calm atmosphere thanks to their aromatherapy powers.